Wedding List, Honeymoon Registry and Gift Fund - Buy Our Honeymoon
Our Guide to Using PayPal with your
Wedding Gift List
With Buy Our Honeymoon, you can link your wedding list to a PayPal account, so that your guests can pay you for their gifts using their credit or debit card. Your guests won't need a PayPal account of their own. Here's our guide to setting this up.
Accepting credit card payments through PayPal can be convenient for both you and your guests, but please be aware that PayPal charge a fee (typically 3.4% + £0.20) per transaction, deducted from the funds you receive.
Once you've set up your PayPal account, don't forget to also log into your Buy Our Honeymoon account and enter your PayPal email address into the Gift Payments section. We'll then be able to integrate PayPal payments into your honeymoon registry. If you have any questions, just ask us and we'll be glad to help.
1

Get a Premier Account

PayPal offer three different account types: Personal, Premier and Business. Many people have a PayPal personal account to make online payments, and they're very often used to buy items on eBay. However, if you wish to receive debit or credit card payments, you need to have a Premier account. More information.

Do you already have a PayPal account?
A:

I don't yet have a PayPal account

To create a PayPal account, go to www.paypal.com and click Sign up. First choose your country of residence and click the option to create an account for personal use. You'll need to provide a few details about yourself, and during sign-up you'll be asked if you want a Premier account.

PayPal will send you a welcome email message that contains a confirmation code. This looks a bit like a credit card number, and it's very important that you use this to confirm to PayPal that the email address you used to sign up is really yours. Log into your PayPal account and look for the Notifications panel on the right-hand side. Click the link to Confirm email address and follow the steps you see on-screen.
B:

I already have a personal account

It costs nothing to upgrade your account to Premier. To do this:
Log into your existing PayPal account, and click Upgrade just under your name towards the top of the page:
A screen will appear listing the advantages of a business account. Don't panic, for now this is correct! Click the Upgrade account button.
You can now choose between a Premier Account and a Business Account. Select Premier Account and click the Continue button.
2

Link your PayPal account to your bank account

The best way to access the gifts paid into your PayPal account is to link it to an ordinary bank account. You can then transfer funds as they come in.

To set this up:
Log into your PayPal account and hover your mouse over Profile at the end of the grey bar towards the top of the screen:
Click Add or Remove Bank Account.
Fill in the form that appears with your bank account details.
A screen will appear where you can review the information that you've entered. If it's correct, click the Add Bank Account button.
You'll now have the opportunity to set up Bank Funding, which is a key step towards being Verified.
3

Get Verified and lift your receiving and withdrawal limits

For legal and security purposes, PayPal set initial limits on the amount of money you can receive into your PayPal account, and the amount of money you can transfer into your bank account. To be able to lift these limits, you must verify that your account is really yours. To get verified status, Premier account holders also need to provide some additional personal information.

When you log into your account, you'll see a panel labelled Notifications on the right: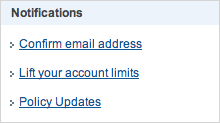 This will list the steps you need to take to get verified and to lift your limits, together with any additional actions PayPal require of you. It's very important to keep an eye on this and to always work through any tasks you see listed.
One key step here is to set up Bank Funding. For this, you'll be asked to submit a direct debit form. PayPal will then make two deposits in your account of small sums. As soon as you're able to find out the amounts that were deposited, either through your bank statement or by telephone or internet banking, log back into your PayPal account. Click the Set up Direct Debit link, and enter these amounts.
4

Transfer funds to your bank account

To transfer your honeymoon gifts to your bank account, hover your mouse over Withdraw and then click Transfer to Bank Account:

You can then enter the amount you'd like to transfer. It can take approximately 5 days for these funds to arrive in your account, so remember to make a transfer at least a week before your wedding and another one after the big day.
Of course, this money is yours from the moment it's given, so it's up to you how many transfers you make: you are in control.
Don't get phished!
Beware of phishing — fraudulent emails, pretending to be from PayPal, that trick you into revealing your login details to a third party, who can then log into your real account and rob you blind.
From time to time, PayPal will send you legitimate emails, including an email to confirm your email address when you first open an account. Whenever you get an email about your PayPal account, the safest and easiest course of action is to open a new browser window, type www.paypal.com, and log in to your PayPal account directly. Do not click on any link in an email that requests personal information.
PayPal have further information on how to spot a phishing email.