Fund your Honeymoon
Instead of stuff for your home, create a wedding gift list to help pay for your honeymoon. Include anything from tiny, meaningful treats all the way to once-in-a-lifetime luxuries.
It's a polite way of asking for contributions towards your honeymoon expenses, and a meaningful way for your guests to give them.
Create the perfect wedding gift list to transform your honeymoon into the trip of a lifetime.
You can add anything you like to your fund — from a few miles of your flight over the ocean to a balloon flight over the Serengeti; the first night of your hotel stay to a farewell drink at the airport on your return.
Your guests choose any of the ideas you've listed, and leave you a private, personal message.
They then pay the value of their gift to you directly, simply and securely online, or in person on the day of your wedding.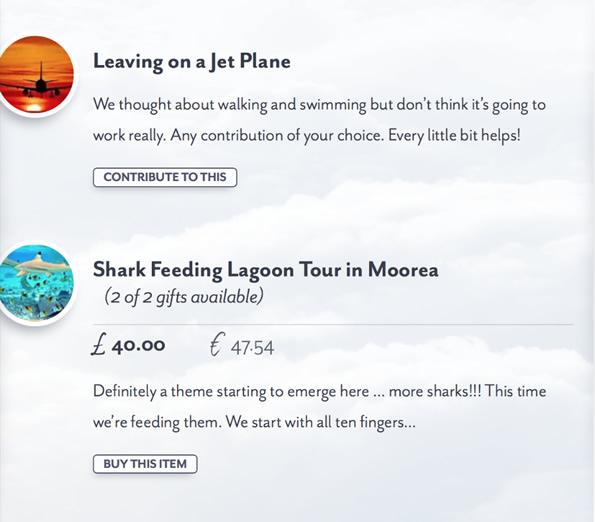 Like many of us, maybe you've been together as a couple for a long time.
You're not just starting a new home with each other. You've got plenty of stuff already, maybe more than you need. So although you'd be grateful for any wedding gifts you're given, you might not want more things for your home.
At the same time, weddings are expensive, and your own wedding might not leave you much left over for your honeymoon. If we're being honest, the best gift you could receive is some money towards making that truly special.
The trouble is, cash isn't very personal. Your guests will want their gift to represent something more than just a number on a piece of paper.
Our service fixes this problem in a way that makes everyone happy.
We make the practicalities easy, and highlight the romance. You get the funds to help pay for your honeymoon, while your guests get to choose a gift that's meaningful.
It's not the same as an inventory of brands, quantities and costs. Your guests aren't giving you stuff, and they're not giving you just cash either. They're giving you memories.
We don't take our fee out of the gifts you're given

Your guests pay you directly, facilitated by the site — saving you money over wedding lists and crowdfunding sites based on a service charge.

We don't hold any funds on your behalf

So your gifts are totally safe, and available as you receive them.

We're 100% independent

You can book your honeymoon however, whenever and with whomever you please.

Established and trusted

We've served thousands of happy couples worldwide since 2007.

Make your wedding list unique, with features unavailable anywhere else

Including Direct Debit gift payments, language, currency, privacy and international options!
Your list has no limits

You can make it as simple or as detailed as you want. Include as many different items as you like, in any number of categories, and even combine honeymoon gifts with traditional household items.

Choose from 16 beautiful design themes

Customise your design with your own photos and add a unique image to each item on your list.

Easy to create, easy to use

Your fund can be up and running in minutes, and it's incredibly simple for your guests.

Personal, dedicated support

We're always happy to help you or your guests, by email or phone.

We'll send you 70 customised notification cards

And your guests can print off a gift certificate to give you on your big day.
The most flexible fund
Mix and match individual gifts with group gifts and open contributions.
Create a list for the most detailed itinerary, or just set up a simple honeymoon fund.
Any destination, any travel agent, any stage in your planning. Make your dream happen.
All part of the service
We're here to help, every step of the way.
We'll assist you to customise your fund so it's the perfect fit for your unique circumstances.
And if you'd like a helping hand putting together your gift list, we'll find ideas to match your plans, at no extra charge.