Our honeymoon
gift list service
Instead of stuff for your home, put together a wedding list to help fund your honeymoon. Include anything from tiny, meaningful treats all the way to once-in-a-lifetime luxuries.
It's a polite way of asking for contributions towards your honeymoon expenses, and a meaningful way for your guests to give them.
Create your ultimate fantasy wishlist to transform your honeymoon into the trip of a lifetime.
You can add anything you like to your gift list — from a few miles of your flight over the ocean to a balloon flight over the Serengeti; the first night of your hotel stay to a farewell drink at the airport on your return.
Your guests choose any of the ideas you've listed, and leave you a personal message. They then pay the value of their gift to you directly — through a one-off Direct Debit straight into your bank account, by credit card through Stripe or PayPal, or in person on the day of your wedding.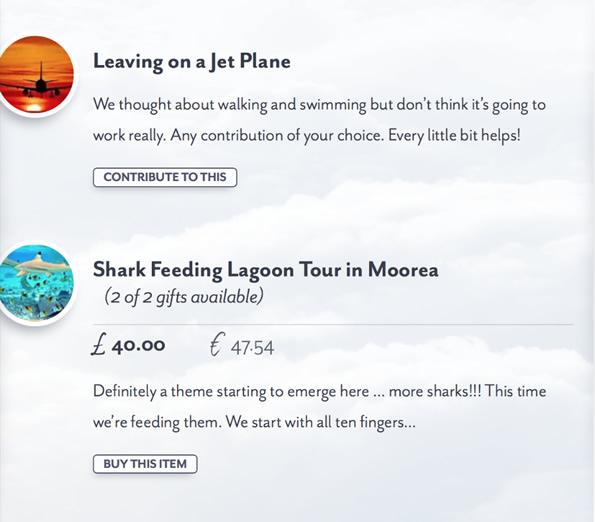 Flexible

•

Meaningful
•
Beautiful

•

Independent
We don't take our fee out of the gifts you're given

Your guests pay you directly, facilitated by the site — saving you money over wedding lists based on a service charge per gift.

We don't hold any funds on your behalf

So your gifts are totally safe, and available as you receive them.

We're 100% independent

You can book your honeymoon however, whenever and with whomever you please.

Make your wedding list unique, with features unavailable anywhere else

Including Direct Debit gift payments, language, currency, privacy and Helping Hand options!
Your list has no limits

You can make it as simple or as detailed as you want. Include as many different items as you like, in any number of categories, and even mix honeymoon gifts with traditional household items.

Choose from 16 beautiful design themes

Customise your design with your own photos and upload a unique image for each item on your list.

We provide personal, dedicated support

We're always happy to help you or your guests, by email or phone.

We'll send you 70 customised notification cards

And your guests can print off a gift certificate to give you on your big day.