Our Guide to

Switching from PayPal to Stripe

We now recommend using Stripe for card payments, instead of PayPal. It has lower fees, better support for payments from overseas, and is much simpler for your guests to use.
Stripe makes it easier and smoother for your guests to send their gifts to you.
Stripe's largely targeted at online businesses rather than individuals, so they're less well-known than PayPal — but they're hugely respected in tech circles, and are trusted by companies like Pinterest, Kickstarter, Twitter, The Guardian, TED and Salesforce for online payments processing.
Making payment using Stripe's checkout is secure, fast and incredibly simple — with full support for Apple Pay as well as credit and debit cards.
Your guests can be based anywhere in the world.
And guests making payment won't ever need to set up an account of any kind. It's the easiest possible experience for them.
Stripe charges a processing fee of approximately 2.9%.
PayPal's fees are typically 2.9% + $0.30 USD per transaction — and are usually higher for transactions made by guests in another country.
PayPal's fees always apply to payments triggered by a third-party service such as ours. PayPal only permit free person-to-person payments where this is manually initiated by first logging-in to a pre-existing PayPal account. Even then, transactions funded through a credit card are still subject to PayPal's fees.
Stripe's fees are approximately 2.9%.
Processing fees are deducted from the amount you receive. More information on Stripe's pricing is available at stripe.com.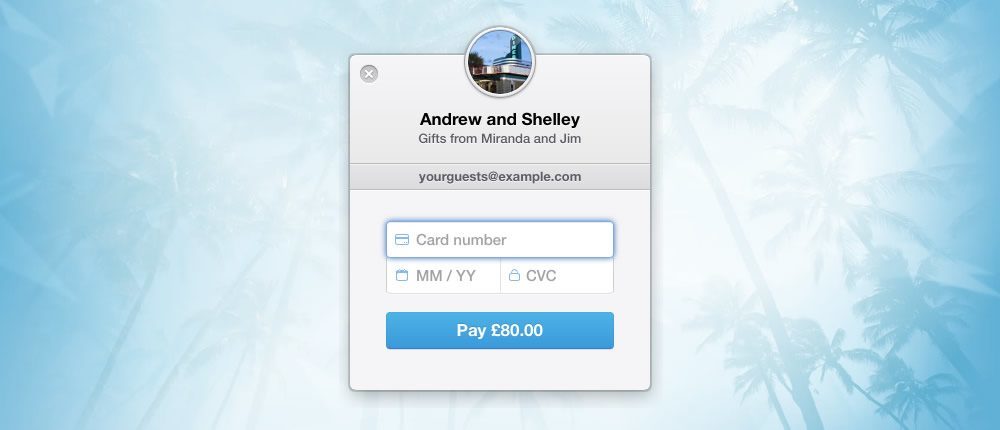 It couldn't be easier to set
this up…
Switching from PayPal to Stripe should take no more than a couple of minutes.
Just sign into your Buy Our Honeymoon account and go to the Gift Payments section.
If you've set up PayPal payments, click the Disconnect button to unlink PayPal from your gift list.
Now click the Set up your Stripe account button. We'll send you to the form on Stripe's site to create your account.
You'll need to provide just a few simple details. You'll be accepting payment as an individual — so you don't have to enter a company number or company tax ID. For the purposes of this form, your business address is your home address.
Once you've filled in the form, click the button to authorise access. You'll automatically return to buy-our-honeymoon.com.
That's it! Your Stripe account is now set up and connected to your gift list, and you can immediately begin taking card payments for your gifts.
If you decide later that you'd prefer to switch back to PayPal, you can disconnect Stripe payments and re-enter your PayPal details instead.
Funds are automatically transferred to your bank account, and arrive
in 7 days.
We'll notify you as soon as each gift payment is made, and at any time you can log into your Buy Our Honeymoon account to view the status of all your gifts.
Secure and safe.
All payments are made over a secure connection. We don't ever have access to the card details used by your guests, and although we can monitor the status of gift payments made to your Stripe account, we cannot access these funds or obtain the details of your bank account.
Stripe may contact you themselves to confirm your identity.
The financial institutions that Stripe partner with require them to verify the identity of each individual that signs up for an account, and Stripe may email you directly if they require additional details to do this. It's a very simple process that only happens if Stripe are unable to verify your identity from your account details, and doesn't affect your ability to continue taking payments through your gift list.
You can combine PayPal and Stripe payments by using PayPal.Me
PayPal.Me is an alternative way to transfer funds from one PayPal account to another, that's usually exempt from PayPal's processing fees. Any of your guests who already have a PayPal account can use it to make a convenient and quick payment for their gifts, while your other guests can use the simple and easy card option via Stripe for theirs.
With Buy Our Honeymoon, you have complete freedom to manage your gift payments in whatever way suits you best. We don't hold your funds, and we don't charge a commission on the gifts you're given. Here's our guide to the different options available.
We're here to help
If you ever have any queries or need assistance, we're only an email or phone call away.