Wedding List, Honeymoon Registry and Gift Fund - Buy Our Honeymoon
This is the UK version of this page. View the international version.
Ten Top Tips to Make the Most of your
Honeymoon Wishlist
How to make your honeymoon wedding list as fun for your guests as it is for you!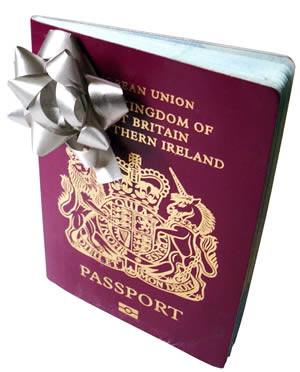 1

Price your items carefully.

Include something for everyone's budget. However, don't underestimate your guests' generosity. If they want to spoil you, let them. Make sure you include one or two real once-in-a-lifetime treats.
2

Do your research.

Sites like Expedia, TripAdvisor, Viator, Frommers and Offbeat Guides are great places to get brilliant ideas for your gifts.
3

Try not to be tempted to simply fill your list with contributions to things.

It's important for your guests to feel what they've bought is special, unique and important to you.
4

Car hire, accommodation and air fare are all useful items to include, but consider listing upgrades instead.

It's so much more appealing to your guests, who'll want to feel that they're giving you the time of your life, and not just paying for a normal holiday.
5

Be as specific as you can be in your descriptions.

You may change your mind later (your guests really won't mind) but Jazz at Truman's Bar (the oldest in NYC) is so much more evocative than An evening of jazz. This also helps your guests to feel they are genuinely buying you a gift and not just making a cash donation. Asking for your honeymoon is quite an abstract concept, so the more you can make it concrete, the better.
6

Write your descriptions in the first person.

"We'll take an sunset dinner cruise" rather than "Take a sunset dinner cruise". This makes your list feel much more personal, and less like a travel brochure.
7

Make your list fun and attractive.

Guests are more likely to enjoy using your list, and to appreciate why you haven't used a traditional wedding list. Choose the theme that suits you best, divide your list into plenty of categories, and make those adjectives work for you!
8

Appeal to your guests' sense of romance and luxury.

Include candlelit dinners, carriage rides and anything at sunset!
9

Give your items interesting titles.

Instead of Contributions to Car Hire, why not The Open Road or The Wind in Our Hair ..?
10

Show your personality.

Fun and funky? Elegant and romantic? The choice is yours. Make your list reflect that.
So indulge yourself: have that luxurious spa morning, upgrade your rental car, eat in the best restaurants, get those VIP tickets. This is your passport to extending the best day of your life into the best few weeks.
We found that by dividing up the excursions and showing people what they were, that we were astounded by people's generosity and ended up being given the entire list which made our honeymoon extra special and unforgettable.
— Claire and Matthew Buckell, Essex