Buy Our Honeymoon: The Wedding List for your Dream Honeymoon
This is the UK version of this page. View the international version.
Frequently Asked Questions
If you have a query that isn't answered below, please contact us at any time.
What can I add to my list?
Absolutely anything! We'll start you off with a handful of suggestions, such as room upgrades, car hire and a bottle of champagne — but there are countless different items you could add. From a romantic meal to a day's scuba diving, you can cover all of your different honeymoon costs.
You don't have to have made any of your actual honeymoon arrangements prior to building your wedding list — you can be as general or as specific as you wish. Guests send you the cash value of their gifts for you to spend on the things they've chosen, from whatever ideas you've put together.
What's more, you don't need to limit your list to your honeymoon — you can mix honeymoon gifts with traditional household items if you want to.
And if you get stuck, we're here to help: with thousands of successful lists as our inspiration, we're happy to provide lots of suggestions.
How can my guests pay for the gifts they've bought?
You have complete freedom to manage this in whatever way suits you best.
You can allow guests to pay by credit or debit card into your own PayPal account. Your guests won't need a PayPal account of their own to do this.

View Our Guide to Using PayPal with your Wedding Gift List for details on how to set this up.

Alternatively, couples in the UK can now collect payments by Direct Debit, using GoCardless.

Take a look at Our Guide to Direct Debit Gift Payments for more information on how this works.

You can ask your guests to bring you cash on the day of your wedding, or to send you a cheque.

Or you can leave instructions on how to make a bank transfer into your own account.
We don't collect payment from your guests, and we don't charge a commission on the gifts you're given.
However, if you choose to take payments into a PayPal account, PayPal will charge a fee (typically 3.4% + £0.20 per transaction), deducted from the funds you receive.
Similarly, if you set up Direct Debit payments, GoCardless will charge a fee of 1% per transaction. This is capped at £2.00.
Can we use your wedding list service without using PayPal?
Yes — when your guests confirm a gift from your wedding list, they're shown whatever payment instructions you've provided. You can set this however you wish, to provide your own details of how your friends and family can send the value of the gifts they've reserved.
Some couples simply opt to receive cash or cheques in a card on the day of their wedding, or leave details on making a balance transfer to their bank account. And if you'd like to add an extra level of privacy to your list, we can set up a password for you, free of charge.
Couples in the UK can also now set up Direct Debit gift payments using GoCardless. Guests will need a UK bank account to make payment this way. You can use both PayPal and GoCardless payments if you wish, to offer your guests a choice on how to pay.
Are our gifts safe?
Completely. Buy Our Honeymoon acts purely as a wedding list creation and gift reservation service — we don't collect any money whatsoever from your guests, so your gifts are yours from the moment they're given.
If you decide to integrate your honeymoon gift list with your own PayPal account, your guests will send the value of their gifts directly into that account. At no time do we handle this transfer of funds, although we'll do everything we can to make the process as straightforward and seamless as possible for your guests.
PayPal are the global leaders in online payments and money transfers, managing over 164 million accounts. In Europe, PayPal is regulated as a bank and is based in Luxembourg. Since 2002, PayPal has been a wholly-owned subsidiary of the leading Internet auction site, eBay.
If you choose to set up Direct Debit payments, this is managed through GoCardless. GoCardless is regulated as a Small Payment Institution by the FSA and is sponsored to use the Direct Debit infrastructure by the Royal Bank of Scotland. Although we can monitor the status of gift payments made to your account, we cannot access these funds or obtain the details of your bank account.
If we use online payments, do our guests have to pay as soon as they reserve a gift?
No, although they certainly can. We'll send them an email message that contains a special link back to the site so that they can pay whenever is most convenient.
The site was easy to set up and meant our guests felt truly part of our wedding and celebrations. The perfect wedding gift solution for the modern couple who already live together and have everything!
— Penny Phillips
Can I ask guests to pay a contribution towards our travel or accommodation expenses?
Of course. Normally, when a guest reserves an item, it's marked as unavailable for other guests. But you can allow any items on your list to be reserved by more than one guest, and take multiple gifts of the same item.
It's useful to have a couple of these kinds of items in case your guests are more generous than you expect (and they often are) — you can't have too many bottles of champagne! Take a look at our Ten Top Tips for making the most of your honeymoon wishlist.
How do our guests find our list?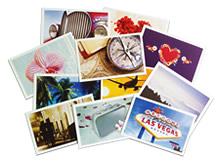 We'll give you 70 notification cards for you to send with your invitations, which provide the exact URL of your list so your guests can go straight to your pages. You can customise these to match the design of your list, and to include your own message.
The cards measure 85mm × 54mm (roughly credit card size). If you're sending more than 70 invitations, you can add more cards to your order.
Your guests can also search for your list using the panel on our homepage.
Do guests have to log in to use the list?
No, viewing a list and reserving items on it is incredibly simple and straightforward. To reserve an item, your guests need only provide their name, email address and an optional message. You, of course, can log in at any time to make changes to your list, or to view your Gift History.
How do we know when a guest has reserved a gift?
We'll send an email notification to both you and your partner, including any message provided for you by your guest. The gift is also recorded on your personal Gift History (available when you log in).
How can our guests who don't have access to the Internet use our list?
Buy Our Honeymoon list pages have been carefully designed to look great when printed, so you can easily post a copy of your list to any of your guests that require it.
Alternatively, your guests can telephone us on 0845 224 0189 (international: +44 20 8305 2414) and we'll be happy to field enquiries on your list for you. You can include this number on your notification cards if you wish to.
Who handles our honeymoon travel, accommodation and activities?
It's entirely up to you. We're not affiliated to any travel agency, so we don't ask you to book your honeymoon through us or to use our preferred suppliers for your honeymoon activities. You're completely free to include whatever you choose on your list.
Buying some random present for my cousin's wedding wasn't nearly as much fun as getting you guys a day of jetskiing and parasailing!
— Neil Harrison
Are there any alternatives to the name "Buy Our Honeymoon" that we could use?
Yes — when you register to create your list, you can choose between seven different URL domains (web addresses) for your honeymoon gift list:
buy-our-honeymoon.com
the-gift-of-memories.com
honeymoonpromises.com
our-dream-honeymoon.co.uk
honeymoon-memories.co.uk
our-hearts-desire.co.uk
our-wedding-list.co.uk
Your guests will only see the site you choose, but you'll still log in to buy-our-honeymoon.com to access your list management tools.
If you change your mind later about the domain you'd like to use, that's OK — just let us know what you'd prefer and we'll be happy to adjust this for you.
Can you help us put together our list?
We'd be happy to! We've had thousands of couples using our service, who've had amazing honeymoons to the four corners of the globe — so we're very likely to be able to find another list that covers your honeymoon destination. With our Helping Hand service, we'll track down, copy over and depersonalise all the items from the very best of these lists to yours. You can then easily work through the suggestions that we've added and customise them as you please! If you'd like to find out more, please contact us.
We'll also provide a handful of ideas to get you started when you sign up for your free trial.
We'd like to personalise our pages — what options do you have?
You can choose a design theme for your gift list and customise it with your own photos, upload pictures to gift items, format text with bold and italics, include links, and add, remove and reorder categories for your gifts. We explain how to do all these things in detail, in the FAQs available when you log in to edit your wedding list.
You can also find out how to link your PayPal account to your site and learn about the variety of different ways gift costs can be displayed.
When should we sign up to Buy Our Honeymoon?
Anytime!* It's a great idea to sign up for a free, no-obligation 7-day trial to "test drive" the site and see if it's right for you.
At any point, you can make a single, one-time payment and spend your time leisurely adding items as you think of them during the run up to your wedding.
What happens if we let our trial expire?
Allowing your trial to expire simply means that your list can't be viewed or edited until payment is made. If you wish, you can let your trial expire, and then at a later date closer to your wedding, log back in to make payment.
Once you've paid, your honeymoon wedding list will be restored exactly as you left it. All of the work you've done will still be there; nothing will be lost.
You can continue to make changes to your list right up to the day of your wedding.
What happens to our pages after our wedding?
We won't ever delete them. You'll always be able to access your pages, although no further gift reservations can be made from one month after your wedding, and you'll no longer be able to make changes to your list. If you'd like this to be extended, we'll be happy to set that up for you, free of charge.
Your Gift History will be available to you forever.
*: Of course, we do recommend you get engaged first.
We just wanted to drop you a quick line to say that we were delighted to have chosen your site for our wedding list. We found the site very easy to set up and use, and it has also been invaluable as a reminder when sending thank you letters to guests. The feedback we have had from our guests has also been 100% positive.
— Edward Bacon and Maddie Baxter, Essex
Try all the features of Buy Our Honeymoon for one week with no obligation and no fee.