A honeymoon registry: the gift of memories
Buy Our Honeymoon is the modern wedding gift list choice for the couple who have no need of extra blenders or bowls, but who dream of romance in a faraway paradise.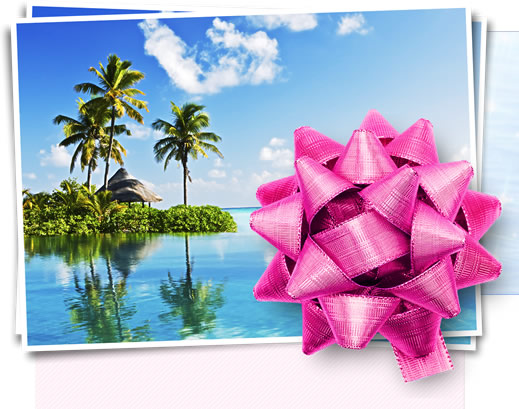 What if your wedding list could transform your honeymoon into the trip of a lifetime? A wedding present that cannot break or tear, helping to create the foundation of your married life together.
Find a honeymoon registry or wedding gift list
We loved this service – it was great value, great fun to put together and our guests enjoyed feeling that they weren't just putting cash in to an account. It also makes writing thank you cards easier!

— Nicola and Paul Birkbeck, UK

We didn't need household items and asking for money just seemed tacky, but this was the best of both worlds: contributions towards our honeymoon whilst allowing our guests to buy a personalised gift.

— Rebecca and Richard Thorneycroft, UK

I cannot tell you how much we love your site! People actually enjoyed looking at our list and it came across as thoughtful and personal rather than some bland gift registry at a department store.

— Heather Leigh Murray and David Keenan, Texas, USA

Buy Our Honeymoon provided us with a faultless service. A brilliant idea to start off with, the system itself is easy to use, highly flexible, and customisable – our guests thought it was fantastic.

— Niki Strange and James Bennett, Brighton, UK

I love this service. By far the coolest and most fun wedding registry ever, and definitely the prettiest and best value of the honeymoon registry sites. Thanks again!

— Lynsey McCarthy and Gerald Buerer, California, USA

Your site was amazing! Our guests commented on how personal our list was and we had to keep adding stuff as they bought it all up.

— Elizabeth Goodwin and Andrew Hall, UK

I love how much flexibility your registry gives. I had a registry set up on a different honeymoon registry site, and I just went and deleted it, because I like your registry set up so much more!

— Elaine Swick and David Sims, Arizona, USA

Thank you for an absolutely awesome service and a fantastic idea … We found our gifts to be more personal to us than anything material we could have asked for.

— Elizabeth and Matt Bryant, UK

We really can't say enough great things about your service. Your attention to detail and your personal responses to all of our inquiries put you on an entirely different level…

— Carolyn and Fernando Bohorquez, New York, USA

We have used your service and thought it fantastic – we couldn't fault the website in any way. It's a great concept that gave us the chance to use your design skills, but maintain total autonomy when it came to cash.

— Katie Bowman and Mike Chamberlain, UK

We were very happy with the gift registry, and so were our friends. It was a great way of getting the gift that we wanted the most – quality time and romantic moments in exotic surroundings.

— Hilde Rusten and Bjorn Gunnar Pollen, Norway

I love this website. It's so easy to use, looks amazing and the customer service is second to none! Can't wait to get ours up and running.

— Kirsty Torrance and Peter Gowton, UK

This website is awesome. I've searched the entire internet looking at every honeymoon registry website and this is by far the best!

— Dan Caryk and Sonja Isobe, Canada

Rather than struggling on a fairly tight budget, thanks to all our gifts we were able to do loads of tours, stay in nice hotels and have the trip of a lifetime.

— Ian Winterton and Claire Metherell, France

What an amazing idea – and an amazingly thoughtful way for our guests to buy us exactly the honeymoon we'd dreamed of. Thank you for such unique and modern twists on the traditional wedding gift list.

— Victoria and Mike Goodsir, UK

We really loved your site and how easy it was to use. It's such a good idea and I know that lots of our guests liked being able to choose what their money went towards.

— Angela and Richard Lamacraft, UK
100% independent · Zero commission · Unique options · No ads · Beautiful designs · Personal support · Free trial
Gift payments by Direct Debit straight into your bank account, or by credit/debit card through Stripe or PayPal