Happy everyone!
If anything, this year's National Wedding Show at Earls Court was even more positive, and certainly busier, than the last.  We spoke to dozens of couples, many of whom hadn't ever considered alternative wedding list services such as ours, but who simply didn't need more stuff bought for them as wedding gifts.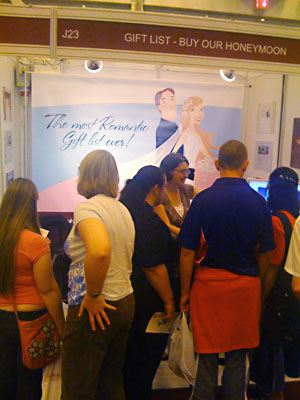 We're very easy to find if you already know that you're looking for a honeymoon gift list, but the National Wedding Show is a great opportunity for us to get on the radar of couples who aren't yet necessarily aware that such services even exist.  It's really great to be able to talk with couples and to explain how our service works, how it differs from travel agent vouchers, and how our business model means your gifts are completely secure.
We also had the massive honour of being interviewed for the fantastic Bridalwave wedding blog — go Shelley!
There were many terrific other wedding suppliers at the show, including our neighbour from last year's show, Berry Scrumptious; our neighbour at this year's show, London wedding photographer Angus Mill — and, making a splash (at least with us as hungry exhibitors), Ice Angels and Calories Exactly.
We'd really like to thank all the couples that took the time to find out more about Buy Our Honeymoon at the show.  We had a brilliant, exhausting time — and we've come away brimming with ideas on further upgrades and improvements we can offer.  As always, if you have any comments or queries, please don't hesitate to let us know, either by leaving a response to this post, or by contacting us directly.