Refinements to big-ticket items
One of the great things about your Buy Our Honeymoon gift registry is the flexibility you have in how to divide up and present the items on your list. As well as single items, which become unavailable as soon as one of your guests has reserved them, you can have items that can be reserved an unlimited number of times, open contributions, and big-ticket items divided into a specific number of gifts.
So let's say you're taking a flight that costs £600 and you'd like to ask for contributions towards this.  You might decide to divide this item into 12 gifts of £50 each, so that your guests could then sponsor 500 miles (or more) of your journey.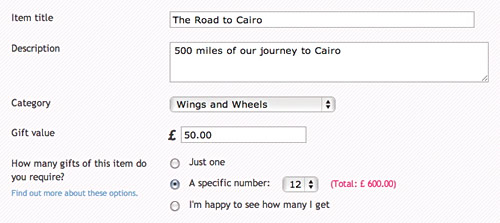 We're very happy to answer queries from your guests by email or phone, and we take careful note of the kinds of questions that come up to see if there are ways we can improve and refine a guest's experience of using the site. This, together with some great feedback by one of our customers, prompted us to make a couple of small changes to how the way these kinds of gifts are presented on your registry pages.
Previously, the item would note how many gifts were still available — so, if 1000 miles had already been bought, it would say "10 available".  Clicking to reserve that item would then also show a note that 10 gifts remained out of 12 originally available.
We've now refined this to make it more immediately clear when some gifts have already been reserved, and to try to explain a little better what a gift that's divided in this way really means.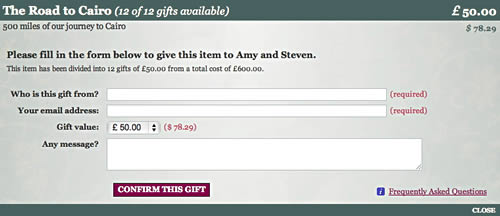 At first, the item now states "12 of 12 gifts available". Then, as soon as a gift of the item is reserved, this changes to "11 of 12 gifts remaining".  And the note on the reservation form now states that "this item has been divided into 12 gifts of £50.00 from a total cost of £600.00."
We hope that these two little tweaks will help to make it clearer to guests exactly what's going on with these kinds of gifts, while still integrating them seamlessly into the rest of your list.
Of course, we'll keep a close eye on guests' reactions to the new format — and if you have any queries or comments yourselves, please don't hesitate to let us know.