The Wedding Ideas Awards 2010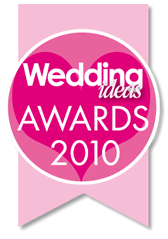 As our fans on Facebook will already know, we were overjoyed to learn that Buy Our Honeymoon was one of only three finalists for Best Gift List in the Wedding Ideas Awards 2010.
The Wedding Ideas Awards are determined solely from the votes of real couples across the UK, so we simply can't thank all our wonderful customers enough for your amazing support in getting us nominated alongside John Lewis and Debenhams — household names here in the UK, and the two largest department store chains in the country.
We're not normally in competition with the high street — if you're setting up home together for the first time as a married couple, the traditional department store registry of kitchenware and linens is a natural and appropriate choice. Instead, we believe we offer a romantic, meaningful alternative for couples who already have all the household items they may need, and who would actively prefer a different kind of wedding gift.
So it was truly incredible to find ourselves pitted against two 800lb gorillas of the industry. That's 1600lbs of gorilla!
As the nation's most popular gift list service, it was only right that the award itself went to John Lewis, leaving us and Debenhams both Highly Commended. It's a cliché, of course, but it's true: it really was an honour to be nominated.
We're still a very new business, and to be recognised like this at such a prestigious event in the wedding calendar is simply awesome. Just like Wedding Ideas Magazine itself, we're small, independent and completely dedicated to providing the best service we possibly can.
To have been voted ahead of so many other popular and well-known companies — both traditional and alternative — is phenomenal. We're very, very grateful to our fabulous customers and supporters for all your votes and kind words — and we'll do everything we can to make sure we deserve your support next year, too.