Happy 2nd Birthday Buy Our Honeymoon!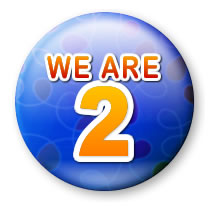 ♫ Celebrate good times — c'mon it's a celebration! ♫ — well for us, anyway!
It's been two years since we launched Buy Our Honeymoon and we never expected it to have the enormous success it's had.
Since our launch, very nearly 2000 couples have signed up to our honeymoon wedding list service from around the globe.   Tens of thousands of gifts have been reserved through the site and the service itself has changed almost beyond recognition.
For some time now, I've joked with Andrew about how embarrassed I am about the original list we wrote back in the summer of 2004!  It now seems so sparse compared to the lists I've written for our couples using the Ultimate Service.
Of course, back then the idea of a honeymoon gift list barely existed in the UK — and there wasn't much to help me from the States either.  So the list was written completely from scratch, with no structure or format to guide me.  Just me making it up as I went along.
So we thought it would be a nice idea to see how far we've come in the last two years by re-writing the original list by showing all the features we've added along the way (and how much writing practice I've had in that time!)
Here's our original list — that we used for our own wedding:
https://www.buy-our-honeymoon.com/farley.green.1
And here's the Special Edition:
https://www.buy-our-honeymoon.com/ShelleyandAndrew
The most obvious change between them is the pictures.  We really didn't want to go down the route of just providing a library of stock images, so we needed to figure out a way you could upload your own pictures (from anywhere) that would look great.  I really feel it adds interest to the page and helps guests get a flavour of what they're giving you.
Many of our themes are now customisable — so for the new version of our list, you're treated to a picture of us.  It's actually from our honeymoon, which I guess is bending the rules just a bit!  The customisable designs mean that you can effectively create your own theme for any travels around the world.  We thought Disney's Cinderella Castle represented our honeymoon best — although I am personally not the biggest fan of the mouse. That honour goes to our daughter!
Another significant change is in the level of description I've put for each item.  The more detail you can provide, and the more personal you can make each gift on your registry, the more engaging and successful your list will be. Our original list used the four categories we provide as defaults when you first sign up for your free trial — but we've seen couples make incredibly creative use of categories to break up their registry and to tell the story of their honeymoon.
We've also added links within item descriptions, a choice of website domains, and the ability to personalise your web address too. Not to mention the ability to request contributions or to specify the number available of an individual item. Although many of the changes are behind-the-scenes, we feel the comparison really shows how much the site has developed since we went live back in 2007.
So, as we raise our champagne in toast to another successful year, we look to the future and the all the plans we have to make it even better.
Please keep your suggestions coming in, because we really do listen and we really do want to make Buy Our Honeymoon the best honeymoon registry service we possibly can.