Now we are six
2 April 2013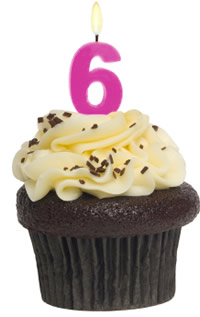 The UK's top wedding gift list for your dream honeymoon, buy-our-honeymoon.com, turns 6 today!
Back on April 2, 2007, we opened the site we'd been building for months, and that we'd first begun for our own wedding almost two years earlier. Since then, we've had more than 11,000 couples from 60 different countries use us for their wedding registry, with nearly 250,000 gifts reserved, covering over 160 different honeymoon destinations. And we're still growing, and still improving.
During the past year, we've become the world's only wedding list service to offer gift payments by Direct Debit for couples based in the UK, we've re-organised and improved the Gift Review screen for guests, we've overhauled our password security, dropped advertising from the site, and introduced even more customisation options. In the past three months alone, we've improved the delivery of emails we send to you and your guests, introduced new travel partnerships, and we've been recommended by both The Mirror newspaper, and the Lonely Planet website. And, for the fourth year in a row, we were among the five finalists for Best Wedding Gift List at the annual Wedding Ideas Awards. It's been an amazing year!
As always, we have loads of plans for the coming year. Soon, we'll introduce some improvements to the Gift Certificates your guests can print out to give you on your big day, we'll be making it easier to add items where your guests can contribute an amount of their choice, we're working hard on some big changes to our themes, and we're ramping up our upgrades to the infrastructure that we use to run the site. Watch this space!
We're still as focussed now as we've ever been on providing the best honeymoon gift list service we possibly can. It's always so fantastic to receive the great feedback and testimonials from couples who've used us, and to know that their guests have enjoyed the experience of choosing a gift. We're truly grateful to all the couples who've chosen us and recommended us over the past six years, and we're very much looking forward to our seventh. Thank-you all so much!