The Ethical Wedding Supplier Pledge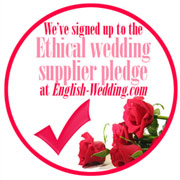 The wonderful English Wedding blog has just launched a new initiative that we're wholeheartedly behind: an Ethical Wedding Supplier Pledge.
Wedding suppliers who sign up promise to:
Never charge more for a wedding than they would for any other event.
Care about customer service and make shopping with their company a pleasant experience for brides and grooms.
Openly offer help and advice to brides and grooms.
Recommend other suppliers when their own order book is full.
Never badmouth another wedding supplier.
Recycle and minimise waste as a lifestyle choice for their business.
Respect other businesses' copyright and intellectual property.
Follow distance selling regulations (including showing full contact details on their web site).
Engage in friendly competition and network with fellow wedding suppliers.
Share advice with new wedding businesses if they ask for help.
This is all completely in line with how we've grown and developed our business since we began back in 2007, so we had no hesitation in adding our name to the list of businesses who are committed to these principles — and we now proudly display the badge on our testimonials and reviews page.