The Wedding Insider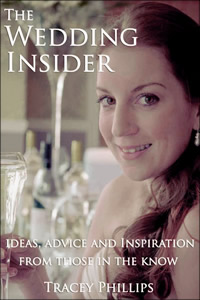 Earlier this year, we were delighted to be approached by the award-winning bridal jewellery designer Tracey Phillips, to see if we'd like to contribute some thoughts to a new book with tips and advice on all aspects of planning a wedding.
The Wedding Insider is now available on Amazon, and we couldn't be happier to have been involved! It's a fantastic resource, with contributions from dozens of wedding suppliers from throughout the UK. From advice on setting your budget, to choosing your dress; from booking a stag do, to giving a great speech; from getting the best out of wedding fayres, to decorating your venue — it's all there!
The book even includes some tips and advice from recent brides, together with access to special offers and discount codes.  Naturally, we contributed the chapter on choosing a wedding list service, with suggestions for traditional gift lists as well as registering for your honeymoon.
The Wedding Insider has great reviews, on Amazon and elsewhere, and is available in both Kindle and paperback editions. We'd really like to thank Tracey for inviting us on board!