As chosen by wedding professionals!
30 May 2013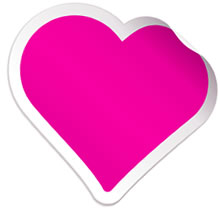 Here at Buy Our Honeymoon, we're really proud that our wedding list service is so often chosen by people who themselves work in the wedding industry.
We know of lots of wedding bloggers, planners, photographers and vendors who've decided that our flexibility, customer support and reputation made us the right choice for their own wedding.
So we thought it might be good to share the love, and introduce a selection of them here on our blog!
Big Bouquet
Emma and Ian run Big Bouquet, a brilliant wedding photography studio in Dorset. We love their attention to detail, the gorgeous, textured design of their website, and their friendly approach. We're really thrilled that for their own wedding back in 2009, they chose Buy Our Honeymoon for their wedding list.
Simply Elegant
A wedding planning consultancy serving London, Kent and Sussex, Simply Elegant is run by Elizabeth Gall, who was a regional finalist in the 2012 Wedding Industry Awards, and a finalist in the Best Wedding Planner category in the 2011 Wedding Ideas Awards.  Elizabeth and her partner Graeme used our gift list service for her honeymoon to Malaysia.
Under The Vintage Veil
A popular blog showcasing vintage-style and rustic chic weddings, Under the Vintage Veil was originally created by Sara to document her own wedding, and quickly blossomed into one of the UK's top wedding blogs.
We were really honored when Sara posted a lovely review of her experiences using our service, and also included us in her wedding gift list guide:
I've been using Buy Our Honeymoon, which I've found to be absolutely brilliant – a total lifesaver. You pay a one-off fee in the beginning and then the world's pretty much your oyster.
Poppy in Pearls
An online boutique selling a wide variety of British buys for creative brides, Poppy in Pearls showcases fabulous jewellery, stationery and accessories sourced from within the UK. It's run by Sarah Ross, who used us to help fund her amazing six-month honeymoon through South-East Asia, Australia, New Zealand and South America in 2010.  Sarah and Ed's honeymoon was even profiled in the September 2011 issue of Wedding Ideas magazine!
Bow Occasions
Providing a full range of bespoke wedding planning services, Bow Occasions is run by Louise Rowland and based near London, in the heart of the Kent countryside. With a keen sense of design and a background in marketing and events, Louise's mission is to create a memorable day for each and every client, no matter the budget, style or size of wedding. Louise and Dean used Buy Our Honeymoon for their own wedding last year, helping them with an exciting honeymoon to Cuba.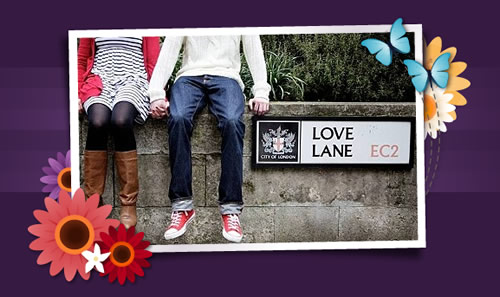 Our Flowerpower theme, customised with photography by Julia & You
treatalady.com
Dedicated to finding the best gifts, weekend getaways, tips and tricks, Jess Billington's treatalady.com is a vibrant romance blog with a great focus on weddings. Jess and Jake used our honeymoon gift list service for her vintage glamour wedding earlier this year — and they leave for their honeymoon to Italy  in just a couple of weeks time!
Bridezillas Ltd
Helping you find your picture perfect wedding jewellery and bridal hair accessories, Bridezillas Ltd is a fabulous boutique in Keynsham, near Bristol and Bath. Founded by Amanda Davis-Harrison, Bridezillas is dedicated to brilliant customer service, whether in person or online. We're so happy to have helped Amanda and Jos with their wedding list in 2010.
Using Buy Our Honeymoon for us was wonderful, as we already had a house with everything in it, it meant we could say to people should you want to give something then you can purchase even the smallest items like coffee and cupcakes for two, or bubbly on our first nights stay.  Love your site and we always recommend people to use it.
Your Day Your Way
A wedding planner based in Kent, Your Wedding Your Way was founded by Laura Jayne, helping you create the wedding of your dreams. With an eye for detail and a wealth of experience, Laura provides a dedicated, friendly and professional service. We're delighted that Laura and David chose Buy Our Honeymoon for their wedding list in 2011.
Gwen's Bridal Bazaar
A new blog, showcasing wedding inspiration for Wales and the South West, Gwen's Bridal Bazaar features real weddings, honest supplier recommendations and opinion pieces. We're so pleased that our service helped Helen and Gareth with their honeymoon to Mexico and London!
I thought your service was an absolute lifesaver, me and my hubby had enough house stuff to sink a ship and didn't want to ask people for money so the service you offered was just spot on.
Leonie Claire Bridal
A designer bridal boutique in central Brighton, Leonie Claire Bridal selects the very best British and international designer gowns and labels. Leonie Claire Bridal was shortlisted for Best Bridal Retailer in London and South East England at the 2013 Wedding Industry Awards — and we're thrilled that Leonie and Nigel chose us for their own wedding in 2008.
perfectminimoon.com
We've featured the excellent perfectminimoon.com on our blog before — bringing you the UK's best minimoon locations, Matt and Kate hand-pick the romanic hotels featured on their site. What we didn't realise until only just recently is that prior to launching perfectminimoon.com, Matt and Kate used our service for wedding gifts towards their own magical honeymoon!
…and us!
We created Buy Our Honeymoon for our own wedding way back in 2005. Here's our story.