Catching email typos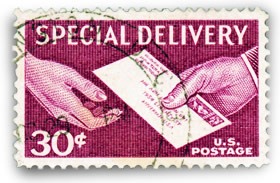 As regular readers will know, we're constantly making small improvements to the usability and user experience of our site. Whether it's making sure your list works perfectly on mobile devices, or making it easier for guests to download and print a gift certificate, this has been a year of relentless spit-and-polish.
Back in February, we switched the delivery of emails generated by the site over to a service called Mandrill, which helped make sure that the messages we send are delivered successfully to their intended recipient — and also allowed us to flag any problems with the email address it's being sent to. We don't bombard anyone with email (and we never send any pure marketing emails, either to you or your guests) — but we do send out gift notifications, gift certificates, PayPal instructions, list closure reminders and so on.
More than 99% of the email we send gets delivered properly — and when it doesn't, it's often simply because of a typo in the email address. Maybe hotmail.co instead of hotmail.co.uk, or gmall.com instead of gmail.com, sky,com instead of sky.com, and so on.
So we've now added a new system to try to catch typos as they're entered. If you type an email address that looks like it might be a mistake, the form discreetly shows what it thinks you might have meant instead.  You can either click the suggestion to correct the address in the form, or just ignore it if there isn't a mistake after all.

This uses a brilliant bit of software called Mailcheck.js — and we've added a raft of popular UK email domains to our implementation, such as BT, TalkTalk and Virgin Media. We've set this up wherever we ask for an email address: for guests when buying a gift, for couples when signing up for a free trial, and when you're adding PayPal as an online payment option on your list.
In fact, this latter means that we no longer need to get you to enter your email address twice when setting up gift payments by PayPal — we're confident that most simple typos would be caught and highlighted just the first time.
As always, if you have any queries about making the most of your honeymoon gift list, or have any suggestions for improvements we could make, please don't hesitate to drop us a line. And don't forget — you can also reach us on Facebook or Twitter!