Direct Debit gift payments – one year on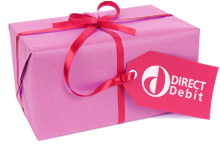 A year ago today, we became the very first wedding gift list service to offer the option of setting up Direct Debit payments into your own bank account, through our partnership with GoCardless.
By following an incredibly easy set-up process, couples in the UK have been able to offer guests the option to pay for their gifts using a one-off Direct Debit. Guests only need to enter a few details into a secure on-screen form — it's as easy and safe as paying with a credit card, and funds are automatically transferred from the guest's bank account into the couple's bank account after a few days.
We're still the only wedding list service to offer this, and we've found it's been a brilliant accompaniment to our comprehensive integration with PayPal.
The big advantage of Direct Debit payments over credit or debit card payments is that GoCardless's fees are really low.  GoCardless charge a 1% fee, capped at £2, compared to PayPal's typical fees in the UK of 3.4% + 20p per transaction.
Since last November, our customers in the UK have accepted Direct Debit gift payments totalling nearly £600,000 — and our back-of-a-napkin arithmetic shows this to have collectively saved them over £16,000 in PayPal fees!
We have no hesitation in recommending to our UK couples that you add Direct Debit gift payments to your wedding list.  It's easy and completely secure, for both you and your guests — and you can set up both this and PayPal payments to offer guests a choice on how they'd like to pay.
And we'll soon be able to provide the system to couples and guests in the EU too. Stay tuned!