More reliable emails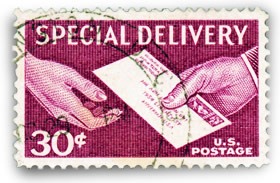 Email is an important part of the service we provide — when one of your guests buys a gift from your list, we'll email you with a notification, and email them with a confirmation and their gift certificate. We'll email you to let you know when your free trial is about to run out, or when your list is about to expire once your wedding's over. If you choose to set up online payments through PayPal, we'll email you with some essential information on how to make sure it all runs smoothly.
We don't send very many messages (and we never send any pure marketing emails, either to you or your guests) — so our reputation with email providers like Gmail and Hotmail is excellent, and our messages aren't often flagged in error as spam. But we're always looking to improve the deliverability of what we do send.
So we recently switched over from sending out emails ourselves to using a third-party email delivery service: Mandrill, provided by the same company that built the Mailchimp marketing email platform. If there's anyone who knows how to deliver email, it's these guys.
We're really pleased that since we switched, 99.6% of the messages we've sent have been successfully delivered to their intended recipient.
One of the great things about using Mandrill is that we're now able to reliably track when a particular message can't be delivered because there's a problem with the email address it's being sent to.  From now, if we encounter problems reaching you at the email address you've provided, we'll highlight this the next time you log in.

Typically, this is simply because there's a typo in the email address we have for you.  It's then super-easy to resolve the problem, just by clicking the Your Details tab and amending the email address that's causing trouble.  If you have any queries about the error that's reported, just get in touch and we'll be able to dig out the full details.
And of course, if you have any questions about our service, you can always reach us at [email protected].