Announcing: Gift Payments via Stripe
16 May 2014
We're thrilled to be able to finally unveil something we've been working on for a while now: gift payments via Stripe.
With Buy Our Honeymoon, your guests pay the value of their gifts to you directly. We don't take payment from your guests ourselves, and we don't take a commission out of the gifts you're given. This means your wedding gifts are totally secure, and are yours from the moment they're given.
You've always been able to connect a PayPal account to your honeymoon gift list so that your guests can make credit or debit card payments for gifts directly to you. Back in 2012, we added gift payments by Direct Debit as an alternative for couples in the UK. We're delighted to announce that we can now offer card payments processed by Stripe as well!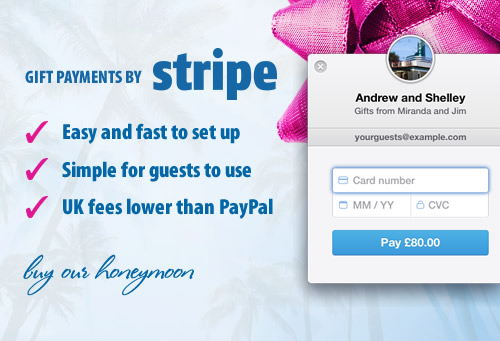 Stripe are at the cutting edge of online payment services, and process millions of transactions a year for individuals and businesses of all sizes. Making payment using Stripe's checkout is simple, fast and seamless. Your guests don't need to set up an account of any kind, and can be based anywhere in the world.
As a couple, setting up card payments through Stripe couldn't be easier. Simply log in to Buy Our Honeymoon, go to the Gift Payments tab, click the button to set up your account, and provide a few simple details in the form that comes up. Once you're done, your Stripe account is created and automatically connected to your list — and you'll be able to accept card payments from your guests right away!
Not only is it easy to set up and easy for guests to pay, for most of our couples it's also cheaper than PayPal! In the UK, PayPal's fees are typically 3.4% + 20p per transaction, deducted from the amount you receive in your PayPal account.  Stripe's UK fees are 2.4% + 20p per transaction, also deducted from the amount you receive.
Payments through Stripe are automatically transferred to your bank account after a few days. The whole process is safe, seamless and simple.
We've put together a complete Guide to Gift Payments via Stripe, containing lots of additional information on how this works.
And if you have any queries about accepting gift payments, or if you'd like help setting this up on your list, please don't hesitate to contact us.