Happy Birthday to buy‑our‑honeymoon.com!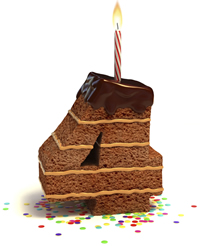 Back at the beginning of April 2007, we flipped the switch and made buy-our-honeymoon.com live to the world.  We couldn't be more happy to be celebrating our fourth birthday. Cake and goody bags for all!
This last year has seen a massive 20% increase on the number of couples signing up to use our service — from an already-strong 2009 — and we were delighted back in June when the 100,000th gift to be reserved through the site was made.  We're now well on our way to the 200,000th gift!
Since April 2010, we've opened lists for couples in 39 different countries, and helped couples visit 130 different honeymoon destinations around the world.  We've also launched our multi-lingual wedding registry service, and worked to streamline our integration with PayPal, so that your Gift History is a comprehensive record of gift payments made into your account.
We've been honoured to be Highly Commended for the second year running in the Wedding Ideas Awards, and we're proud that many of our new customers choose us on the recommendation of their friends and family. It means a lot to us.
We have big plans for the year ahead, not least of which is our return to the National Wedding Show at Earls Court this coming autumn.  We've had to miss the show for the past couple of years, so we're really looking forward to talking again face-to-face with couples about what they'd like to see from a modern, independent wedding list. We're always working on improving our service, and our fifth year won't be any different.
Most importantly, though, we'd like to thank all the couples who've signed up with us this past four years — for your kind words of feedback, for your brilliant suggestions, and most of all for allowing us to be part of your big day. We know that choosing a supplier for any aspect of your wedding can be daunting, and we really appreciate the faith that each couple invests in us. Thanks so much, all of you.