Gift payments by Direct Debit
We're very happy to announce that couples in the UK can now accept payment for gifts through Direct Debit.
With Buy Our Honeymoon, your guests pay the value of their gifts to you directly. We don't take payment from your guests ourselves, and we don't take a commission out of the gifts you're given.
But we do help you manage your gift payments.  We've always offered comprehensive integration with PayPal, so that guests can quickly, easily and conveniently pay for gifts using a credit or debit card. Most of our couples set up their honeymoon gift list this way.  Others choose to receive cash or cheques in a card on the day of their wedding, or leave details on making a bank transfer to their account.
Now in addition to this, we're the very first wedding gift list service to offer the option of setting up Direct Debit payments into your own bank account.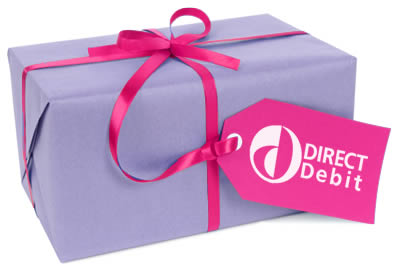 We've partnered with GoCardless to do this — it's a completely safe and really inexpensive way of collecting your honeymoon fund payments online, but without all the hurdles associated with credit card processing.
It only takes a couple of minutes to set this up. Just log into your account, or start a free trial, and click onto the Gift Payments tab.  We'll help you create your GoCardless account and automatically link it to your wedding list.  Your guests will then be able to click through to the GoCardless payment system, where they'll enter just a few details to set up a secure, painless, one-off Direct Debit mandate. It's as easy and safe as paying using a credit card.
The really big advantage is the fees. GoCardless charge a fee of only 1%, capped at £2 per transaction. This compares brilliantly with PayPal's typical charges of 3.4% + 20p per transaction.
Guests certainly don't mind being asked to make a balance transfer, but making a Direct Debit payment is much simpler and far less work: they can click straight through and fill in a short form online. Rather than providing their card number and expiry date, they'll provide their account number and sort code. From there, we can notify you with a transaction ID and help track the status of the payment. They're fully covered by the Direct Debit guarantee, so everything's safe, seamless and simple.
To make payment this way, a guest will need to have a UK bank account of their own. You can, of course, set up both PayPal and GoCardless payments, and offer guests a choice on how they'd prefer to pay. We'll keep the details of all your online payments in your Gift History, which you can access and download at any time, even long after your wedding.
We've put together a comprehensive Guide to Direct Debit Gift Payments, containing lots of additional information on how this works. And if you have any queries about accepting gift payments, or if you'd like help setting this up on your list, please don't hesitate to contact us.