New gift certificates
With Buy Our Honeymoon, when your guests make a reservation from your wedding list, they can download and print a special, customised gift certificate to give to you on your big day. We first launched these back in 2007, and they're a really popular way for guests to feel that they have something physical to put in a card as a representation of their gift.
We've now updated the design and taken the opportunity to change the way we deliver these. The new design includes the personal message left by your guest when they reserved the gift, and each certificate is now a downloadable PDF so that it's easier for guests to keep a copy and print it.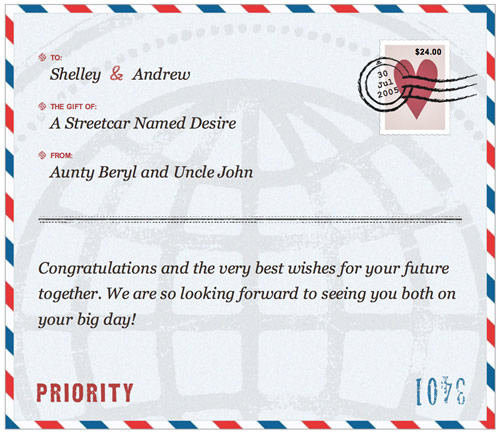 There are a couple of little touches we've kept from the original design: the postmark is the date of your wedding, and the price on the stamp is the cost of the gift. We've also added one more. Can you find it?
The new gift certificate is in use as of now for any lists that haven't already had gifts bought. If you've had some gifts reserved from your registry, we've kept you on the original design so that your certificates all match — but if you'd like to switch over to the new design anyway, that's no problem at all: just let us know and we'll be happy to sort that out for you.
What do you think of the new gift certificates? Let us know on Facebook!