Easier open contributions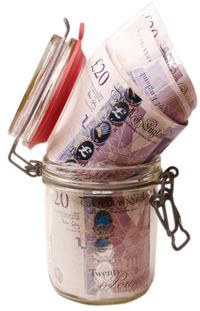 One of the unique features we offer on Buy Our Honeymoon is the ability to vary the way you show the cost of different items on your registry.
You can have simple, one-off gifts that when they're reserved become unavailable for other guests. Alternatively, you can take an item with a bigger overall cost and break it down into manageable, guest-sized chunks. For example, if you had a helicopter flight costing £300, you could break this down into 6 lots of £50. Once all six have been bought, the item becomes unavailable.
You can also specify that you're happy to see how many gifts of an item you get — perhaps a £10 gift for a taxi ride, that could be bought multiple times by different guests, so that you might not have to walk anywhere at all!
We also had a hidden feature where you could combine this without specifying a gift value, to enable an open contribution — perhaps towards something really expensive, like your flights. With this, the item is then displayed without a price, and the button shows Contribute to this.  Guests wishing to make a contribution will need to enter the amount they'd like to give, and there's no limit on the number of contributions that can be made.
We've now made it much easier to set this up. When adding a new item, or editing an existing one, there's now a checkbox for "open contribution" next to where you'd enter a gift value.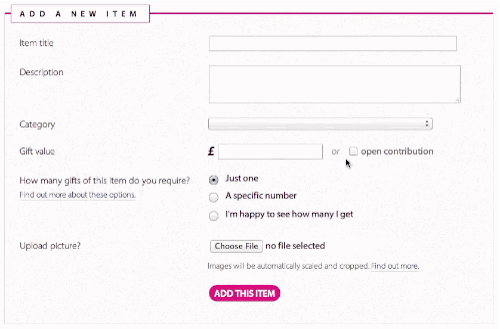 You can mix-and-match these different kinds of item on the same list — you're not just limited to having either individual gifts or a single open contribution. So, you can combine gifts of show tickets, meals out, experiences and activities with contributions towards the cost of your plane journey or your hotel stay.
We've also taken the opportunity to improve the way we present the options you've selected for each of your items when you log in to manage them.  Previously, we had a set of symbols to indicate whether an item was still available or if it had been reserved, and whether it was a single item or could be bought by more than one guest.  Now, reserved items are greyed-out (like they are on your actual list pages) — though you can, of course, still edit them — and we've marked open contributions and gifts that may be reserved multiple times in a much clearer way, so it's easy to remind yourself at a glance how you've set up a particular item.
We pride ourselves on making our wedding gift list service as flexible and personal as we possibly can, while keeping it super easy-to-use and manage. If you have any feedback for us, we're all ears!