Pieces of the pie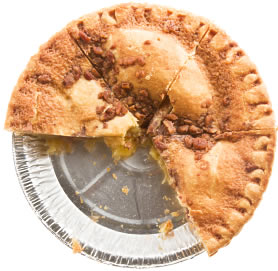 Just recently, we had a brilliant suggestion from one of our lovely customers, that we're really pleased to have put into place now for everyone.
On Buy Our Honeymoon, you can divide a gift up in a variety of ways.  The simplest is to present an item as a single gift, and once it's reserved, it's unavailable for other guests. Alternatively, you can allow a gift to be reserved an unlimited number of times, perhaps to receive contributions towards the cost of a larger item. You can also work out the overall cost of an item and break it down into a set number of manageable chunks.  For example, if you were planning on taking a helicopter flight costing £300, you could break this down into 6 lots of £50.  Once all 6 gifts have been reserved, the item will become unavailable.
Guests sometimes choose to reserve more than one piece of the pie, though. A generous guest might decide to give you the last £100 of your helicopter ride in a single gift.  Your email notifications and your Gift History have always shown the total value of an individual gift, but we now also show you how this relates to the way you've divided up the item:

It's a really simple change, but one that we're sure will make your gift notifications and gift history that little bit clearer and easier to understand.  Thanks to Christina for her excellent suggestion!
If you have any queries regarding this — or if you have any suggestions of your own like this — please don't hesitate to get in touch, or to leave a comment on this post.