Misty Peaks
We very recently released a new theme on Buy Our Honeymoon, Misty Peaks.  We've been asked a couple of times this year for a theme suitable for winter honeymoons — trips to the Canadian Rockies, ski vacations in Colorado or the Alps, log cabins and open fires — and so we set to work.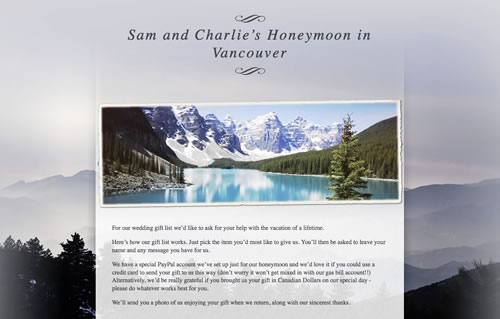 The new theme uses beautiful mountain scenery and a twilight palette to set a romantic, elegant mood.  For our UK and EU customers, registry cards in the new design are available now, and we'll have a sample list using Misty Peaks available as soon as we can.
What else is missing from our range of designs? We're always open to requests and suggestions, so please leave a comment on this post, join our Facebook page, or contact us directly with any thoughts you may have.