New theme – Vintage
We've now released a brand-new design theme for Buy Our Honeymoon — Vintage. Evoking the sophisticated 1940s or the glamorous 1950s, it features a beautiful floral patterned background, a muted colour palette, and stylish inset photography.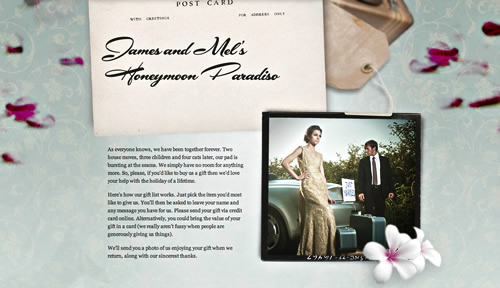 It's the first theme we've designed from scratch since we upgraded all our themes earlier this year to enable you to upload your own photos into the design and to use special fonts for your registry title and category names. Naturally, Vintage can also be fully customised, and (if you'll forgive me) features the best uppercase-H of any font I've ever seen!
Vintage is suitable for any honeymoon destination (though we think it'll work particularly well for adventures in Latin America or romance in Western Europe) and it's available right now for all our customers.  Just log in and click the purple Theme tab, or click here to start your free trial.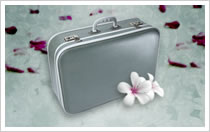 Registry cards to coordinate with the new design will be available from Monday for our customers in the UK and EU.
We'll also have a new sample list using Vintage available as soon as possible — but for now, here's James and Mel's Honeymoon Paradiso in the new theme.
We're always on the lookout for new ideas for design themes we could offer, so if you feel there's a gap in our repertoire, please don't hesitate to let us know.
And, to stay right up-to-date with all the latest developments, why not become a fan on Facebook, or follow us on Twitter.