Themapalooza!
We've now rolled out the final phase of our theme updates for Buy Our Honeymoon — and we've made some changes to every single design!  Here's a rundown of all the updates we've put in place today:
All our themes now use special fonts for your registry title and category names. This really gives each theme an extra lift, and themes such as Flowerpower are now even more fun.  If, however, you'd prefer to use the fonts you had previously, just let us know and we can roll this back just for your pages right away.
California Dreaming is now American Dreaming. The theme is now just as suited to honeymoons among the theme parks and beaches of Florida as it was for California — and the updated theme can be customised with your own images.  If you're currently using California Dreaming, you can switch to the new theme and upload your own photos by logging-in.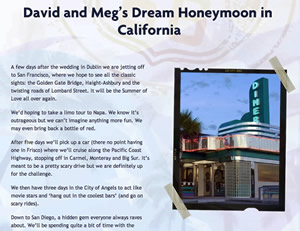 We've retired our New York, New York theme. If you're currently using New York, New York, though, don't worry — we won't have removed it from your pages!
Our Into the Sunset and Vegas Baby! themes can both now be customised with your own photos. This now means that all our current themes can be customised!
We've adjusted the default images on the Paradise, Road Trip and Misty Peaks themes to use the same styling as the customised versions. We think this makes them look even better, but if you're using the default images and would like us to revert your pages to their original styling, please let us know and we'll be happy to arrange that straight away.
As always, if you have any queries or concerns, please don't hesitate to contact us and we'll do our very best to help.  Don't forget, you can also keep up with the latest from Buy Our Honeymoon on Twitter, and join in the conversation on Facebook.