Ocean Haze
We're truly thrilled to unveil our brand-new design theme for your honeymoon gift list: Ocean Haze. It's modern, calm, and perfect for honeymoons touched by gentle waves and warm sunsets.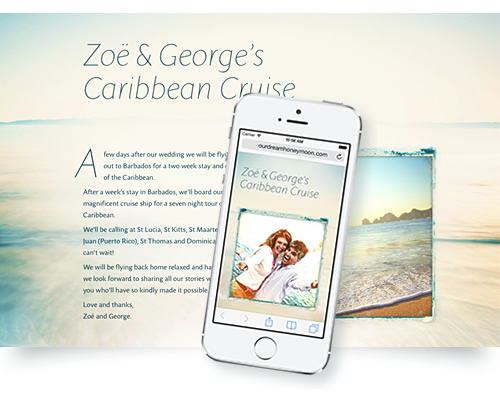 Last year, we revisited every one of our wedding list designs to freshen them and to get them to work perfectly on smartphones and tablets, so your guests can make full use of your registry on whatever device they choose.
Ocean Haze builds on the success of that project, and is the first completely new theme we've released since Vintage way back in 2009. In many ways, it works as a counterpoint to our popular Paradise theme — where Paradise evokes blue skies and hot sunshine, Ocean Haze brings you turquoise waters and white sands.
It's a versatile design, as suited for a honeymoon in the Norwegian fjords as it would be to Sri Lanka and the tropics. We've created a new sample list to showcase the new theme — Zoë and George's Caribbean Cruise, which features a week in Barbados followed by a week on board a cruise ship, calling at St Lucia, St Kitts, St Maarten, Puerto Rico, St Thomas and Dominica.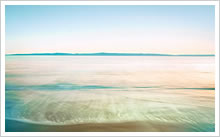 As with all our themes, you can customise the inset photography with your own images, and registry cards to coordinate with the new design are available for our customers in the UK.
Ocean Haze is available right now for all our customers.  Just log in and click the purple Theme tab, or click here to start your free trial.