Our new design is live!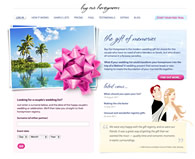 We're hugely excited to finally unveil our new design for buy-our-honeymoon.com! We've been working on this for quite a while, and we're really pleased with how it's turned out.
It's been more than 4 years since we first launched our honeymoon registry service — an eternity in internet time! Since then, not only has technology improved in various exciting ways, but we've refined and honed our brand design immeasurably. It's lovely to be able to reflect those changes on the site itself.
We've made things wider, airier, and with much better typography. We're less reliant on JavaScript for design flourishes. And although our bride-and-groom mascot hasn't entirely vanished, they're no longer on every page!
Our range of design themes for your registry pages hasn't changed, of course.  We've got a few very subtle changes for them in the pipeline, but we've always been focussed on making your registry designs all about you as a couple, and not about us as a company.
We've tried to make sure the new design works well across a range of browsers — from the oldest Internet Explorers to the newest Firefoxes — but if you find any glitches, do please let us know.