Mumpreneur UK Gold Award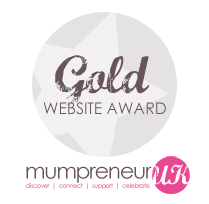 We're completely thrilled to reveal that Buy Our Honeymoon has won a Mumpreneur UK Gold Website Award!
The award acknowledges visually pleasing and easy-to-navigate web sites run by parents or parents-to-be, and we're very honoured to be in such excellent company.
Mumpreneur UK offers a brilliant support network to mums (and dads) in business, and websites submitted for the award are considered by three professionals in the online industry who mark the site on a variety of criteria. The gold award is the highest level presented, so we're truly delighted and deeply grateful!
We launched Buy Our Honeymoon shortly after our first daughter was born, and we've found that balancing the needs of our family with the needs of the business has actually benefitted our customers. The flexible working schedule involved means that we're often more available at times when couples need us. Part of the reason we're able to deliver famously-prompt responses to email enquiries is that we're not a traditional business.
Of course, it's the web that makes this kind of business possible. The way we work has changed so much in the last 15 years, led by the growth of the Internet.  This has enabled working parents to be more creative and innovative in terms of finding a work/life balance.
If you're interested in the work of Mumpreneur UK, check them out on Facebook and Twitter!