The new Parchment and Lace
7 August 2013
This Summer, we've been updating all our honeymoon registry design themes to make them mobile-friendly. Today, we're delighted to release the new version of our theme for honeymoons to the grand old cities of Europe: here's the new Parchment and Lace.
Much like our work on Zen or Vintage, we didn't want to make sweeping changes to this design — we've kept almost everything intact, but have given it all just a little more polish. The background is brighter and more inviting; the frame for the inset photography is better defined, with softer shadows; the colour scheme is tighter and more consistent.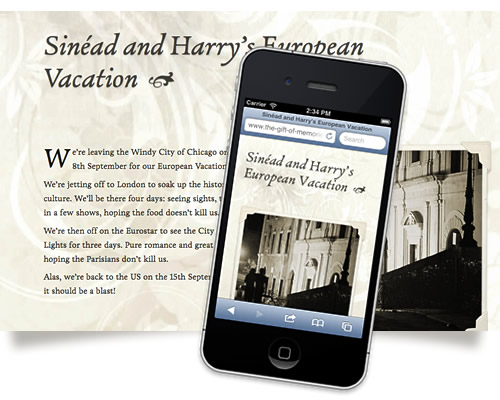 Parchment and Lace is elegant and stately, with sepia tones and Renaissance flourishes. It's perfect for honeymoons to Paris, Rome or London, where there's history and romance all around you.
Alongside making sure all our updated themes work perfectly on smartphones and tablets, we've been working on making sure the typography on your lists is as gorgeous as we can make it. For Parchment and Lace, we've chosen fonts with a heavy 16th-Century influence, that remain warm and approachable, and give a slightly handmade quality to the design.
Even though the changes to this one are quite subtle, if you're currently using Parchment and Lace, we haven't automatically switched you over to the new design. If you'd prefer to keep your registry exactly as it is, that's no problem. But if you'd like to see your list using the new Parchment and Lace, please just get in touch and we'll be glad to help.
We originally conceived Parchment and Lace as the urban counterpart to Scrapbook — one of our most popular themes, with lovely, organic textures. It's next up!