The new Scrapbook
9 August 2013
We're nearing the end of our Grand Project to update and freshen all our honeymoon registry design themes. Today, we're thrilled to be able to release the new version of one of our most popular designs — here's the new Scrapbook.
Scrapbook has been a signature design for our service ever since we first unveiled it back in 2007. With layers of paper textures and a unique leafy background, it's relaxed, sophisticated and romantic. For this new version, we've made the foliage more vibrant and lush, softened the shadows and improved the way the design carries through as you scroll.  We've made the heading typography more elegant and calligraphic, swapped around some of the colours, and made everything larger and roomier.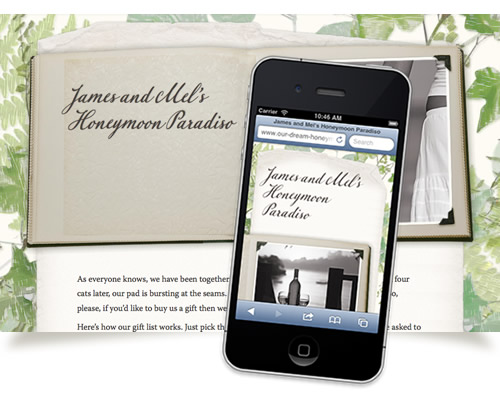 One of our major goals with this set of redesigns is to make sure your list works fully on mobile devices like the iPhone or iPad. Scrapbook is unique among our themes in the way that it positions the title and inset photography against each other — so, in order to avoid having a teeny-tiny title on narrow smartphone screens, the design changes fairly dramatically at a certain point.  We're really pleased with how it's turned out!
Scrapbook is perfect for restful, countryside honeymoons, together away from it all. Here's our sample honeymoon gift list for a secluded villa in Tuscany. It's nonetheless a versatile, friendly design, suitable for any honeymoon destination where the sun shines and the flowers grow.
As always, if you're currently using the classic version of this updated theme, we haven't automatically moved you across to the new design. You can keep your wedding list exactly as it is for as long as you wish. If you'd like to try out the new theme, just let us know!
Next week, we'll release the last two of our themes, Flowerpower and Roadtrip. Stay tuned!