The new Flowerpower
13 August 2013
The penultimate design in our Grand Project this summer to update and refresh all our honeymoon registry themes, we're delighted today to bring you the new Flowerpower.
Flowerpower is a bright, fun and funky theme, with a strong retro vibe. It's our only theme to use a light-on-dark colour scheme — and for this new version, we've added lots more depth and texture, together with new inset photography for your list page and a handful of little touches that we think really lift the design.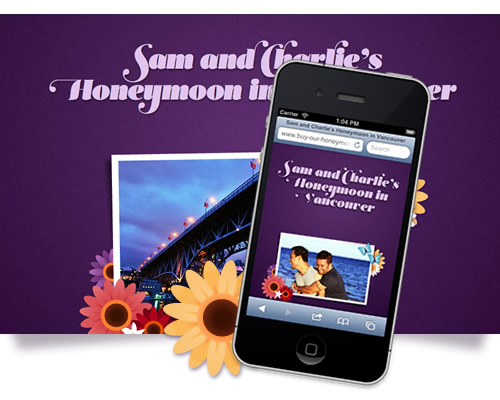 The new Flowerpower uses beautiful, quirky typography that's totally modern yet subtly evocative of the sixties and seventies. It's a hugely versatile theme that works brilliantly wherever your travels take you, and is perfect if you're combining traditional wedding gifts with honeymoon donations — or, as one of our lovely couples are currently doing — using your wedding gift list to fund the purchase and renovation of a classic VW Campervan!
Flowerpower has its origins in Rainbow Heart, a design we first put together with gay weddings and civil partnerships in mind, and our sample registry to showcase the theme features Vancouver's annual Pride festival.
Like all our updated themes, the new Flowerpower works perfectly on smartphones and tablets, so your guests can enjoy the full flavour of your registry no matter what device they're using. And our own branding is subtler and more integrated with the design, so the focus stays on you and your plans.
If you're currently using the previous version of Flowerpower, we haven't automatically switched you over to the new one. You can keep your registry looking exactly as it stands for as long as you please. If you'd like to try out the new design, please just let us know and we'll be happy to help.
We have one last updated theme to bring you, and it's the one that started it all back in 2005, for our own wedding: Roadtrip.