The new American Dreaming
5 August 2013
The ninth updated theme in our project this summer to refresh all our honeymoon registry designs, today we're thrilled to bring you the new American Dreaming.
This one's substantially different from its predecessor, and we're really pleased with the direction we've been able to take it.  There's a lovely, misty glow coming through the palm trees in the background now, while the stars-and-stripes are both subtler and better-integrated.  The red, white and blue colour scheme is much more defined, and the typography is so all-American it could run for President.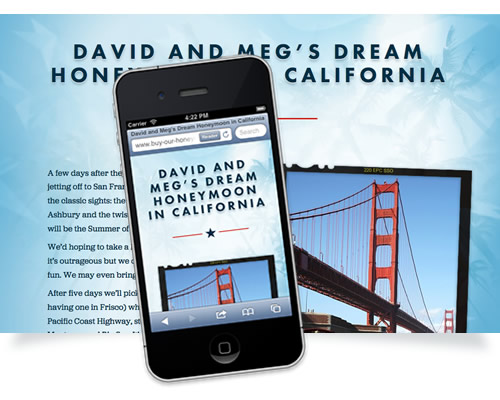 As with all our new designs, American Dreaming works perfectly on smartphones and tablets, so your guests can make full use of your list on whatever device they choose. We've also softened our own branding, so that the focus stays completely on your honeymoon and your plans.  With the new version of this theme, the inset photos are much bigger — and you can, of course, customise them with your own images.
American Dreaming was first launched as California Dreaming back in 2008. We then updated it a year later to be just as suited to fun in the theme parks of Orlando, adventure in the Everglades or relaxation on the beaches of Florida as the original was for honeymoons to Hollywood, Lake Tahoe and San Diego. Here's a sample wedding list for San Francisco and Napa Valley — fresh, bold and easygoing, American Dreaming is perfect for any honeymoon under American skies.
The original California Dreaming was released only days after Parchment and Lace. In this project, we're tackling them the other way around. Stay tuned!