We're seven years old!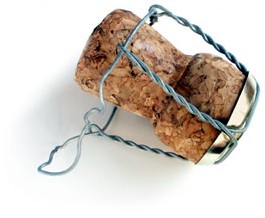 On 2 April 2007, we pushed the button to make our honeymoon gift list service open for business. We'd first created the site a couple of years earlier, for our own wedding — but we were quickly persuaded that other couples might like the same thing; that we could turn our idea into a real business. At the time, there were only a handful of similar sites available, but we had a firm view on how things ought to be done differently, and we fashioned our service from those principles:
We didn't want to take our fee as a commission from your gifts. Most sites at the time deducted around 9% from each gift to cover both payment processing and the site's own service fee. Instead, we'd charge a simple, flat fee.
We wanted to put you in control of your gift money. Rather than being paid to us, and then being passed-on to you, we wanted your gifts to go directly to you. Charges for online payment processing can't be avoided, but we wanted to minimise these as much as possible, and for both you and your guests to have the option to make alternative arrangements.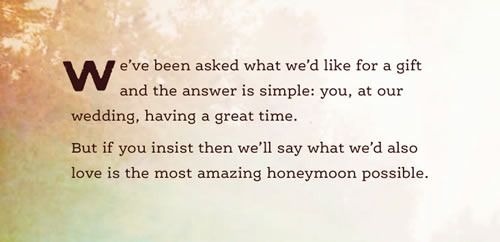 We wanted the site to be fun, romantic and engaging for guests. We were the very first honeymoon registry to have design themes for couples to choose. Our service is about making honeymoon contributions as real, as polite, and as memorable as physical gifts. We put a lot of effort into making sure your gift list can tell the story you want it to tell.
Our branding is less important than your branding. We wanted to make sure guests could go straight to your pages, without having to search for you first. We didn't want our logo to dominate your pages. And no ads!
We'd stay focussed. Wedding gifts aren't like birthday or Christmas gifts; and honeymoon gifts aren't like housewares. There's a lot of flexibility in the site, but our service is unapologetically targeted to a specific market.
But we'd adapt and improve constantly. We're in a fortunate position where we can quickly put into action any idea that we think would be worthwhile — our site is hand-made, in-house. We deal with customer and guest enquiries ourselves, just the two of us. If something would benefit from being revised or amended, we'll know about it quickly, and can deal with it immediately.
We've evolved buy-our-honeymoon.com a great deal in seven years — with new gift payment systems, new designs, new ways of customising the site, new options and features. But we've never been tempted to stray too far from the ideas we had when we originally set it up.
They've served us well! We're in the rudest health we've ever been —so here's a massive thank-you to the tens of thousands of couples who've used us so far. We're really thrilled that so many of our customers take the time to send us their kind words of feedback, fantastic suggestions, or to recommend us to their friends and family. Many of our new customers choose us for themselves, having used us first as a guest — and we're really honoured and grateful. Thank-you all!
Here's to year eight! We've got some very exciting things to share with you very soon!