Stripe: now available in Australia!
Earlier this week, Stripe launched their online payments service in Australia — so we're thrilled to be able to open up this option for gift payments to couples in Australia right away.
Our partnership with Stripe makes it incredibly easy for couples to accept card payments for their gifts, and offers the simplest and most seamless payment experience possible for your guests.
Your guests can be based anywhere in the world, and won't ever need to set up an account of any kind — but Stripe is only available to couples based in a handful of countries including the UK, the USA, Canada and Ireland. We're delighted that Australia is now among that group!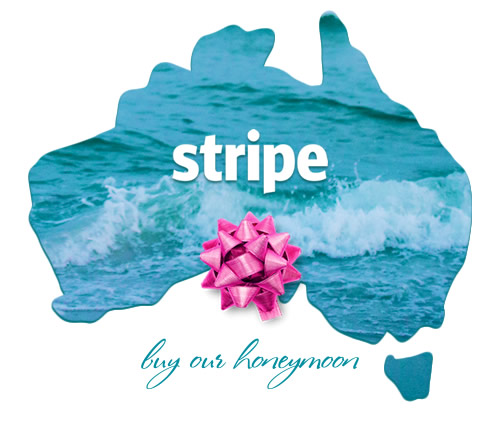 For couples in Australia, Stripe charges a processing fee of 1.75% + 30¢ per transaction for domestic cards, or 2.9% + 30¢ per transaction for international cards and American Express. Check out our Guide to Gift Payments via Stripe for more information.
You'll receive your funds in Australian dollars, but you can continue to display your gifts in whatever currencies you choose — we'll perform a currency conversion on your behalf if one is necessary.
Stripe are currently beta-testing their service in a further 12 European countries — including many of the ones where we offer our multi-lingual wedding list service — with even more countries still on the way.
As soon as Stripe fully launch in any territory, we'll make sure we facilitate gift payments for couples living there.
But if you're anxious to be able to use Stripe payments for your honeymoon registry, but you live in a country where they're still in beta, please don't hesitate to get in touch. We'll see what we can do!