Into the Sunset
With Buy Our Honeymoon, you can choose from 15 different design themes for your honeymoon gift list. Today, we're delighted to unveil a fresh new version of our Into the Sunset theme.
Into the Sunset has always been our default theme — the one your list's created in when you sign up for your free trial — so it needs to be as versatile as possible.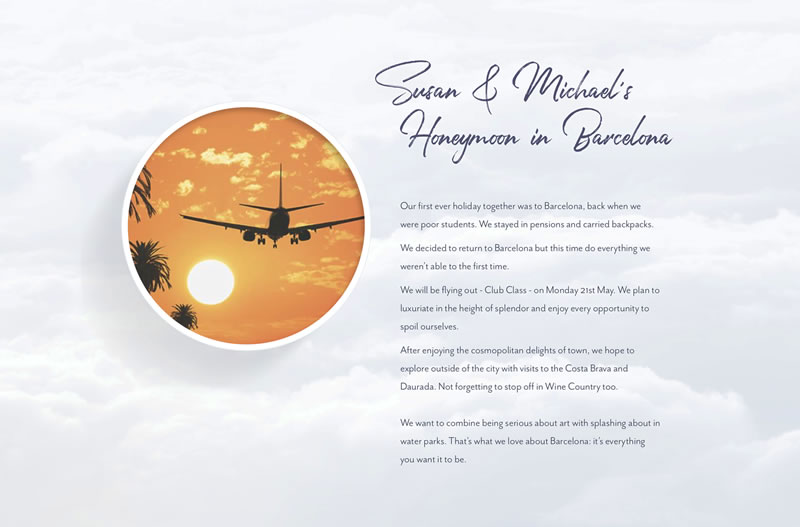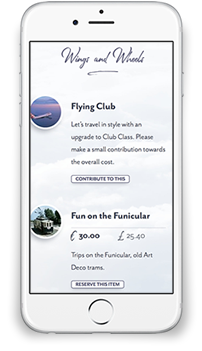 This new version is airy, sophisticated and very modern. It's simple, friendly, and well suited to any honeymoon destination, from relaxing beach to vibrant city.
The big, beautiful inset images are customisable, so you can feature whatever photos you choose. Check out our sample registry for Into the Sunset, Susan and Michael's Honeymoon in Barcelona.
Like all our themes, Into the Sunset works perfectly on mobile devices and tablets, so your guests can help fund your dream honeymoon on any device and anywhere there's an internet connection.
If you currently have a list on Buy Our Honeymoon using the previous version of Into the Sunset, we haven't automatically switched you over — you can continue using the theme you'd chosen for as long as you wish. But if you'd like to see how your list looks in the new version of Into the Sunset, just let us know and we'll happily send you a link.