Paradise
We're thrilled to release a gorgeous new update to one of our most popular design themes. Paradise is perfect for relaxing honeymoons to tropical shores.
Deep blue skies, pristine white sands and the crystal clear ocean. If you're planning your honeymoon to the Maldives, the Seychelles, the Caribbean or anywhere else that the sun shines and the beaches beckon, this is the design for you.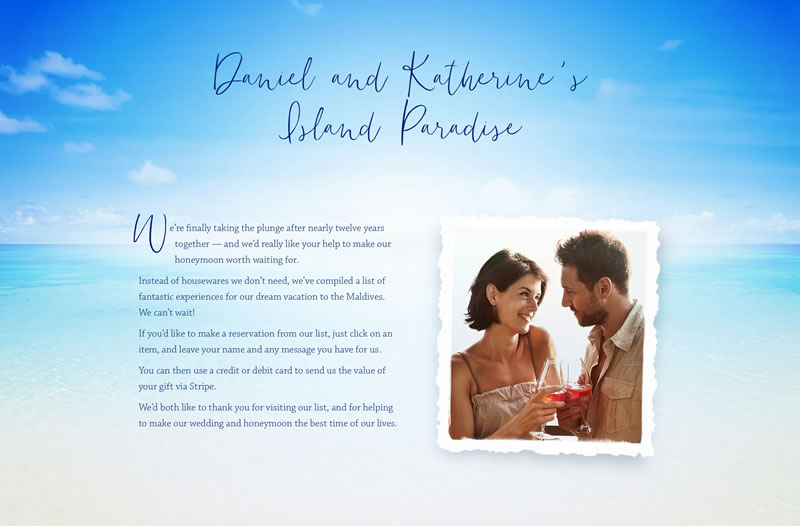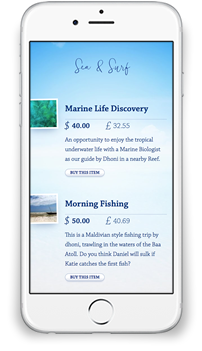 The new Paradise is more spacious and fresh than ever before. You can customise the inset images, change your list title and make your registry uniquely yours.
With Buy Our Honeymoon, your wedding gift list is focussed on your plans and your personality, helping to transport your guests to those distant shores so they can really feel how they're funding your dreams and not just throwing some money in a pot.
Our sample registry, Daniel and Katherine's Island Paradise, showcases the new theme beautifully. It's two glorious weeks in the Indian Ocean, exploring the islands of the Maldives and relaxing in a luxury water villa.

Like all our designs, the new Paradise works perfectly on mobile devices and tablets, so your guests can easily help fund your dream honeymoon whether they're taking a quick break in the office or catching up on their phone.
If you currently have a list on Buy Our Honeymoon using the older version of Paradise, we haven't automatically switched you over — you can keep using the theme you'd chosen for as long as you wish. But if you'd like to see how your list looks in the new version of Paradise, just let us know and we'll happily send you a link.