Aloha!
We're very pleased to unveil a brand new design theme for your honeymoon gift list. Aloha! captures the golden light and turquoise waters of Hawaii and Polynesia.
Our first new theme since 2014's super-popular Ocean Haze, it's bright, fresh, Summery, and just a tiny bit retro. And while it's inspired by the South Pacific, Aloha! works beautifully for any honeymoon destination where the Sun shines and the beach beckons.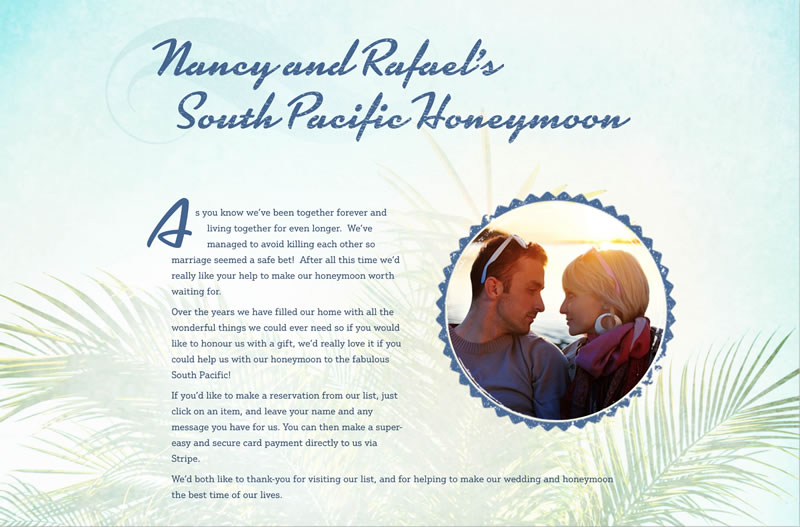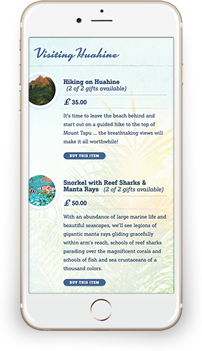 Textured, a little weathered, but warm and colourful, Aloha! features vintage 1940s typography and gorgeous circular inset images that you can customise with your own photos.
We've also created a fantastic new sample registry to showcase Aloha! — Nancy and Rafael's South Pacific Honeymoon. A blissful two nights in Moorea followed by a romantic ten-day tour of French Polynesia, taking in Huahine, Papeete and Bora Bora.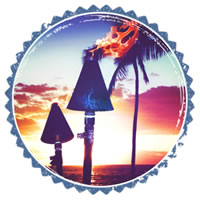 Like all our themes, Aloha! works perfectly on mobile devices and tablets, so your guests can help fund your dream honeymoon whether they're on a desktop PC at work, or an iPhone on the bus!
Aloha! is available right now for all our couples — just sign in to buy-our-honeymoon.com and select the purple Theme tab.