Simplicity
Our third new theme of 2017, we're delighted to unveil Simplicity — a clean, modern and elegant design, suitable for any destination.
All our themes can be customised with your own images, but Simplicity takes this a step further by making your image the heart of the design. There's no background texture or frame: the focus is all on your photo.
We've been asked occasionally if we have a monochrome theme, and Simplicity is now our answer. It's perfect for black-and-white images, but looks fabulous with colour ones too.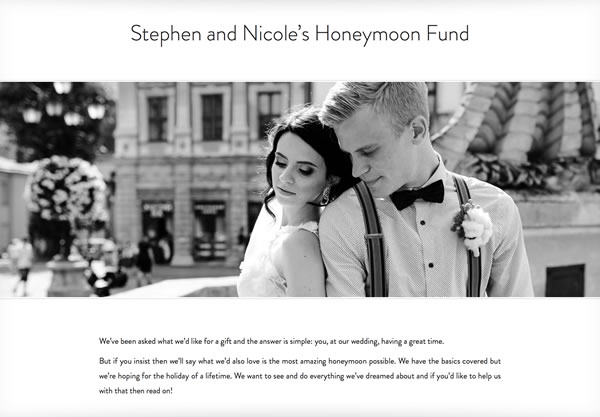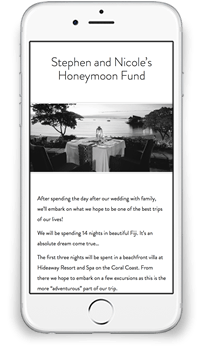 Simplicity is probably our most versatile theme yet. It'll coordinate beautifullly with any honeymoon — from beach paradise to city lights, a safari tent on the savannah to a cruise liner on the ocean.
And because we keep our branding on your registry pages super-discreet, it's a great choice for connecting your honeymoon gift list with your wedding website.
We've also created a brand new sample registry to showcase Simplicity — Stephen and Nicole's Honeymoon Fund.
It's the perfect theme for simple honeymoon funds, and our new sample registry is a gorgeous example. Two weeks in beautiful Fiji: an island resort and a dream come true.
Like all our themes, Simplicity works seamlessly on phones and tablets as well as on the desktop, so your guests can make full use of your registry on whatever device they choose.
Simplicity is available right now for all our couples. Just sign in to buy-our-honeymoon.com and select the purple Theme tab.