The Wedding Ideas Awards 2012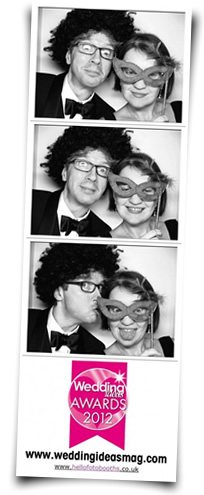 For the third year running, Buy Our Honeymoon was in the shortlist for the Best Wedding Gift List in the annual Wedding Ideas Awards!
Each year, the brilliant Wedding Ideas magazine organises the UK's most prestigious consumer awards, with couples voting in their thousands for their favourite wedding suppliers, venues and services. The finalists this year for the Best Weding Gift List were:
Buy Our Honeymoon
Cancer Research
Debenhams
John Lewis
Not On The High Street
We're so thrilled to be in such illustrious, heavyweight company, and we're very, very grateful to all our customers from 2011 that voted to put us there. You're amazing and lovely, every last one of you!
This year, for the first time, the award winners in each category were chosen from the shortlist by a team of judges. And so, last Friday night, the award ceremony was held at The Brewery venue in the heart of London, where over 300 of the industry's finest gathered for an awesome evening.
The 2012 winner in our category was Not On The High Street — a fab and hugely popular service for unusual and personal gifts sourced from a vast network of small, independent suppliers. Many congratulations!
One of the best things about this is how little we're actually in competition with the other finalists — in business, that is, if not in the awards!  We mentioned this in 2010, when John Lewis won: we're here to offer a romantic, practical alternative for couples who would actively prefer a different approach to their wedding gifts. To be rubbing shoulders with the biggest names in UK retail, both in stores and online, is a fantastic honour.
Thank-you to the team at Wedding Ideas — especially both Rachels and Martha — for the event, for their support, and for their ongoing dedication to providing an independent and individual voice on the newsstands. Commiserations and hugs to our industry colleagues who were also shorlisted in their respective categories, especially our friends at Shoot It Yourself, Cards By Sophie and Maisie Fantaisie. Howdy also to the lovely Mrs P and P, plus our tablemates at the National Wedding Show and the delightful Hellofoto Booths. And of course huge congratulations to all the winners, including the ever-fabulous Giddy Kipper and Lucy Ledger!
Lastly, thanks again to our amazing couples. We're really honoured by your votes, your kind feedback and encouragement, and your trust in choosing us to be part of your big day. We promise again to do everything we can to deserve your support for next year!