Direct Debit - an update
24 January 2013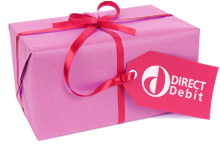 In November, we launched our brand-new support for gift payments by Direct Debit, through our partnership with GoCardless.
By following an incredibly easy set-up process, you can now offer guests the option to pay for their gifts straight into your bank account using a one-off Direct Debit. They only need to enter a few details into a secure on-screen form — it's as easy and safe as paying with a credit card.
We've been completely delighted with the results. Over half of the couples from the UK who have signed-up since the end of last year to use us have added gift payments by Direct Debit to their wedding lists — and there have already been hundreds of gifts paid for, totalling over £6000.  Remarkably, there haven't been any teething problems for guests making payment — it's clear they've found the process very easy.
The big advantage of Direct Debit payments over credit cards  is that GoCardless's fees are considerably lower.  GoCardless charge a 1% fee, capped at £2, compared to PayPal's typical fees of 3.4% + 20p per transaction.  Our couples using GoCardless have  already (collectively) saved hundreds of pounds in fees!

And, in thrilling news, GoCardless won, not one, but two awards this week — the Best UK Startup at The Europas, Europe's most prestigious technology awards, and also Best Web App at The Next Web's European startup awards! Many, many congratulations from us!
We have no hesitation in recommending to our UK couples that you add Direct Debit gift payments to your wedding list.  It's easy and completely secure, for both you and your guests.
And if you'd like to offer your guests a choice on how to pay, you can set up both GoCardless payments and credit/debit card payments through PayPal.
Right now, you need to have a UK bank account to use the GoCardless system, either as a couple to receive gift funds, or as a guest to pay.  But GoCardless will be making Direct Debit payments available throughout Europe over the next few months.  As soon as it's ready, naturally we'll offer support for this too. We'll keep you posted!
Unlike most other honeymoon registries, we don't deduct a service fee from the gifts you're given. We believe it's better to have a simple, low, one-time payment instead. And we operate this in the same way that you'd take online payments as a couple — using PayPal or, now, as a one-off Direct Debit through GoCardless.  If you're in the UK, you can choose either method of payment when you go through the checkout process on our site. It's a great way of seeing how straightforward the process would be for your guests!
For more information on setting up gift payments by Direct Debit, take a look at our guide. And as always, if you have any queries, please just get in touch. We'll be happy to help!