The new Misty Peaks
17 July 2013
Last week, we unveiled the new Paradise, the first of our updated range of design themes for your honeymoon gift list. Today, we're delighted to bring you the second: the new Misty Peaks.
Misty Peaks was initially created back in 2008, and we feel it's a theme that's stood the test of time really well. The design uses beautiful mountain scenery and a twilight colour palette to set a calm, romantic mood. It's particularly suited for winter honeymoons — trips to the Canadian Rockies; ski vacations in Colorado or the Alps; log cabins and open fires.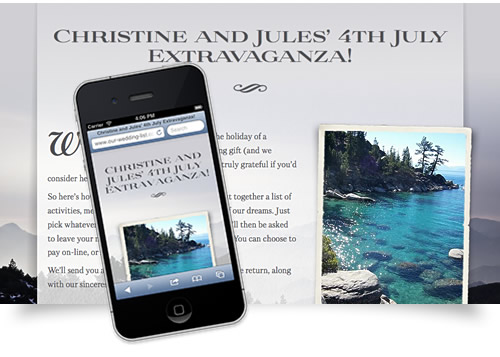 If you currently have a list on Buy Our Honeymoon using the previous version of Misty Peaks, we haven't automatically switched you over — you can continue using the theme you'd chosen for as long as you wish.  If you'd like to see how your list looks in the new version of Misty Peaks, just let us know and we'll send you a link.
This summer, we're working through all of our themes to bring them right up-to-date with modern web technologies — to make sure they respond perfectly to mobile devices like the iPhone or iPad, to get the typography as gorgeous as we can make it, and to refresh our own branding on your registry pages so they're even more focussed on you and your honeymoon.
We've tested the new Misty Peaks on a wide variety of browsers and devices, but if you find something that doesn't seem to be working as it should, do please get in touch.
We're really pleased with how the new Misty Peaks has turned out, and we very much hope you like it too.  We didn't need to change very much on this one — but our next theme is a much more radical departure from its predecessor. Stay tuned for the new Safari.