The new Paradise
We're truly thrilled to finally unveil the first of our new set of design themes for your honeymoon gift list. Our Paradise theme has always been one of our most popular designs, perfect for romantic, beachy honeymoons on tropical shores. The new Paradise takes everything that was great about its predecessor, and adds a whole lot more.
The biggest change is that it now adapts perfectly to mobile devices like the iPhone or iPad, so your guests can use your list easily and conveniently wherever they are — and they'll get the full experience, not just a watered-down mobile version of the site.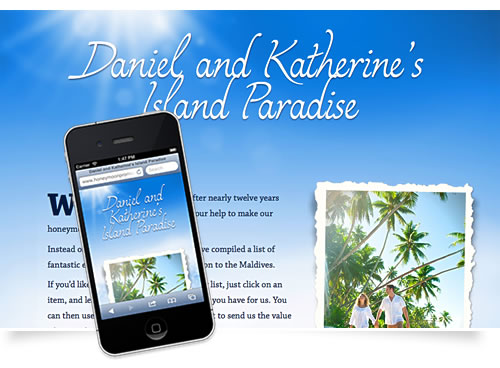 We've also completely switched over the technology used to deliver the special fonts on your list — together with using special fonts for more than just the list title and category names — and introduced lots of changes to the overall design. We've toned down our own branding on your list even further, so the focus is even more where it should be: on you and your honeymoon!
Over the next few months we'll introduce new versions of all our classic themes that incorporate all the great new features beginning just with Paradise today.  If you currently have a list on Buy Our Honeymoon using the old version of Paradise, we haven't automatically switched you over — you can continue using the theme you'd chosen for as long as you wish.  If you'd like to see how your list looks in the new version of Paradise, just let us know and we'll send you a link.
We've been working towards this for quite some time. Back in 2007, when we first launched Buy Our Honeymoon, we were the only specialist wedding registry site to offer design themes, and we later added uploadable photos for list items, customisable photos for the list itself, and special fonts for list titles and category names. We're still the only registry service that lets you organise your list into totally custom categories, with items sorted into whatever order you wish, and with plenty of room to leave a full and engaging description.
Back in 2007, we needed to make sure our lists worked perfectly on Internet Explorer version 6, and no-one used their mobile phone to access the internet. With the new Paradise, we've finally let go of IE6 (your list still works, but it just uses a very plain, stripped-down design). It still works great in Internet Explorer 7 or above, and we've tested it in Chrome, Safari, Firefox, the iPhone, the iPad and the Samsung Galaxy S3 for Android. If you're using a different device and find something behaving strangely, please let us know!
We really hope you like the new Paradise theme, and we can't wait to show you the next of our updated themes that we're working on. Watch this space!