The new Safari
So we reach stage three of our grand project to update and refresh all of our design themes — and we're really excited about this one. Here's the new Safari.
The original Safari was one of the themes we launched with, way back in 2007. It's perfect for a honeymoon expedition to the sweeping plains and vast national parks of Tanzania and Zanzibar. Follow the Great Migration across the Serengeti and explore the collapsed volcano crater at Ngorongoro; create memories to last a lifetime.
The new version of our Safari theme is a pretty radical departure from its predecessor, bringing with it a much softer mood, a lovely fresh colour palette, and big improvements to the presentation of your photos when you customise the theme with your own images. We're really proud of it.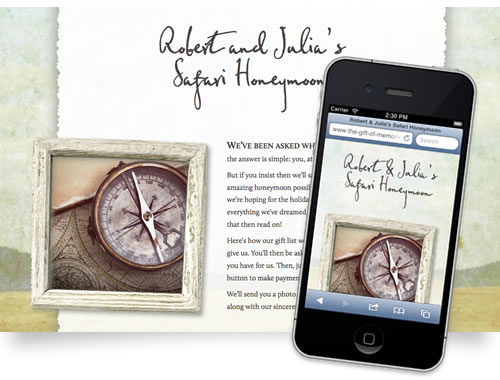 Like all our new themes, the new Safari adapts perfectly to mobile devices like the iPhone and iPad — so your guests can easily use your list wherever they are — and includes some really beautiful typography and much subtler branding.
It's also really easy to adapt the new Safari to honeymoon destinations far from Africa.  The new theme's sophisticated watercolour style works perfectly for relaxed, countryside honeymoons. Here's James and Mel's Honeymoon Paradiso — a romantic honeymoon to a secluded villa in Tuscany — using the new Safari with customised photos.
If you're currently using Safari, we haven't automatically switched you over. You can use the classic version of this theme for as long as you'd like. Just let us know if you'd like to try out your list in the new design!
We're working through all our themes to bring them right up-to-date. Coming later this week: the new Into the Sunset.