The new Vintage
31 July 2013
We released Vintage in 2009, and since then it's become our most popular theme. Today, we're releasing an updated version that brings with it all the good things we've been adding to all our themes this summer — it adapts perfectly when viewed on a smartphone or tablet, our own branding is subtler, and the typography is more consistent throughout.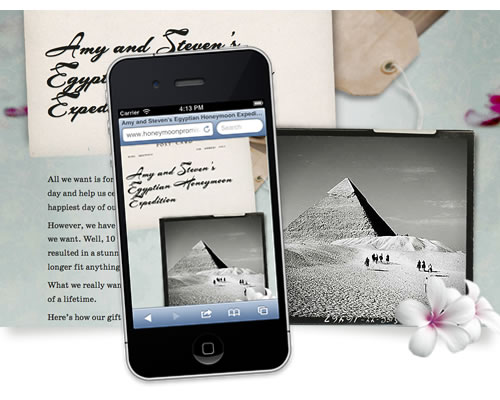 As our newest theme, we really didn't want to change Vintage a great deal.  We've kept intact everything that made the theme so popular — the gorgeous textures, the delicate mid-century colour scheme, and the sophisticated inset photography (that, of course, you can customise). We've even retained the delightful title font (with its splendid uppercase-H), though we've updated the technology we use to deliver it.
Our focus with this refresh has been on making sure the experience stays perfect on mobile devices like the iPhone and iPad, and on making the typography of the list itself as authentic to the period as we can make it.

Vintage is suitable for any honeymoon destination (though we think it'll work particularly well for adventures in Latin America or romance in Western Europe) — using customised photos, here's our sample list for an Egyptian honeymoon expedition.
If you currently have a list on Buy Our Honeymoon using the previous version of Vintage, we haven't automatically switched you over — you can continue using the original theme for as long as you wish.  If you'd like to see how your list looks in the new Vintage, just let us know and we'll be glad to help.
Our grand project continues — stay tuned for the new Zen!