The new Vegas, Baby!
30 July 2013
This Summer, we're working on a grand project to update and freshen all our themes, and today we're really pleased to bring you the sixth new design. Here's the new Vegas, Baby!
It's quite a transformation. We've kept a couple of points of reference from the previous version, but overhauled absolutely everything.  The background is still bold and vibrant, but is now much smoother. The typography is still modern and urban, but is now much classier. And, perhaps most importantly, when you customise the theme with your own photos, they're framed in a much more appealing way.  We're really pleased with how it's turned out.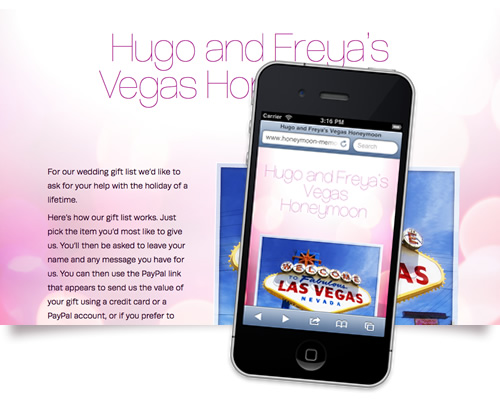 Vegas, Baby! is a glitzy, fun theme, never knowingly understated. And it's not just suitable only for honeymoons to the entertainment capital of the world — with customised photos, it works brilliantly for city-break honeymoons anywhere. Here's a sample registry using Vegas, Baby! for a winter honeymoon to New York.
Like all our updated themes, Vegas, Baby! adapts perfectly when you view your list using a smartphone or tablet, so your guests will get a complete, seamless experience no matter what device they're using.  Our own branding is also now less prominent, so the focus stays right on your and your honeymoon.
If you're currently using the previous version of Vegas, Baby!, we haven't automatically switched you over to the new design.  You can keep your list just as it is for as long as you'd like to. If you'd like to see how your registry looks in the new theme, do let us know and we'll be glad to send you a link.
So, from a theme that changed a lot, to one that's changing very little — later this week, we'll bring you the new version of our newest and most popular design, Vintage.