Direct Debit payment estimates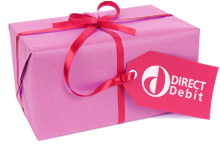 With Buy Our Honeymoon, couples in the UK can offer guests the option to pay for their gifts straight into your bank account using a one-off Direct Debit. It's as simple, easy and safe as paying with a credit or debit card, but with really low processing fees.
We notify you as soon as one of your guests sets up a Direct Debit payment for their gifts. The funds are collected from your guest's bank account after five working days, and are automatically transferred to your bank account two working days later.
The exact timings for this are largely down to the participating banks, but for each payment, we now include an estimate of when you can expect to see the funds arrive in your account.
We've put this estimate in the email notification we'll send to you, and it's also shown in your Gift History, when you log in:

It's a small update, but one that we hope helps makes your Gift History even more useful. And don't forget, you can refer back to your Gift History at any time, even after your list has closed.
For more information on setting up gift payments by Direct Debit, take a look at our guide. And as always, if you have any queries, please do get in touch. We'll be more than happy to help!