The new Into the Sunset
24 July 2013
The fourth theme in our project to update and freshen all our honeymoon registry designs, Into the Sunset takes a handful of design cues from its predecessor, and pushes them in a brand new direction. It's warm and airy, with a slightly retro feel — and, like all our new themes, it adapts perfectly to devices like the iPhone and iPad.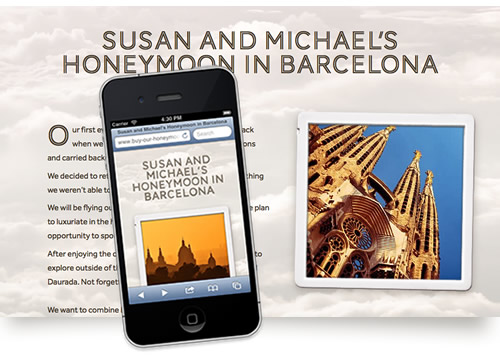 This is actually the third version of Into the Sunset — we gave the original a bit of spit and polish back in 2008 — but it's the first to have a really clear personality of its own. Into the Sunset has always been our default theme, the one your list's created in when you sign up for your free trial, so it needs to be as versatile as possible. For this version, we wanted to capture some of the romance and glamour of the golden age of air travel, while keeping the flexibility to apply the theme to any honeymoon destination. With customised images, the theme works just as well for a cultured tour of Barcelona or a winter's break to New York.
If you currently have a list on Buy Our Honeymoon using the previous version of Into the Sunset, we haven't automatically switched you over — you can continue using the theme you'd chosen for as long as you wish.  If you'd like to see how your list looks in the new version of Into the Sunset, just let us know and we'll send you a link.
This summer, we're working through all of our themes to make them fully-responsive on any device, to improve the typography and to soften our branding. Next up: the new Rose Petals.