The new Rose Petals
26 July 2013
Our third updated design this week — and our fifth in this project — here's the new Rose Petals. It's a lovely example of what we're trying to achieve in refreshing our themes: it takes the best characteristics from its predecessor and gives them much more room to breathe. And of course, it adapts brilliantly to mobile devices like the iPhone or iPad, so you can be confident that your guests can completely engage with your registry no matter what device they're using.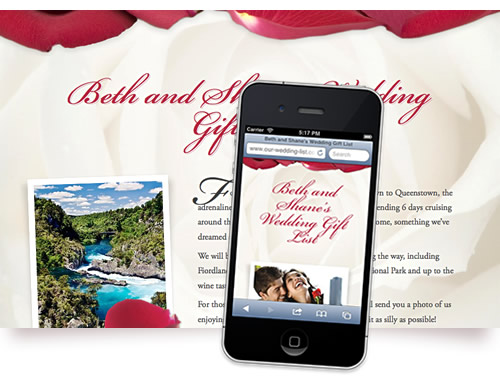 Rose Petals has always been a great choice if you're combining honeymoon gifts with traditional household items. It's elegant and flexible, dignified but modern. This new version is brighter, softer and more open.  As with all our updated themes, as well as being responsive, the typography is better and our own branding is much more subdued. We're thrilled to release it!
If you're currently using Rose Petals, we haven't automatically switched you over. You can use the classic version of this theme for as long as you'd like. Just let us know if you'd like to try out your list in the new design!
We're approaching the halfway mark in our project to update all our themes.  Next week, we'll bring you the boldest transformation yet — stay tuned for the new Vegas, Baby!